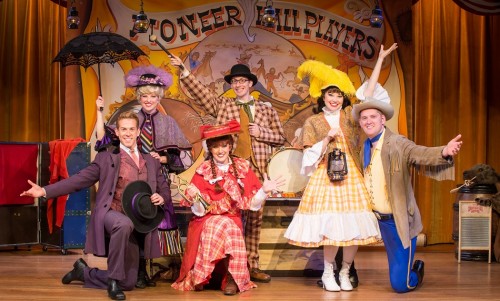 Two weeks ago, we wrote about our invitation to help celebrate the 40th Anniversary of Walt Disney World's original dinner show "Hoop Dee Doo Revue." Courtesy of Disney, we now have more information about the show, it's history, and some fun facts you can share at the dinner table to annoy your friends who just don't get your Disney obsession.
When Hoop-Dee-Doo Revue launched on June 30, 1974, the high-energy dinner show at Pioneer Hall at Disney's Fort Wilderness Resort and Campground was created in the heyday of dinner theaters for Walt Disney World guests with a summer college intern cast. The foot-stompin', hand-clappin' musical starred six young actors and offered endless buckets of fried chicken and ribs.
"Hoop-Dee-Doo was upbeat, and guests came for the corny jokes, good food and lots of fun," said Forrest Bahruth, show director, Disney Parks & Resorts Creative Entertainment and the original choreographer for the dinner show. "Forty years later, the heart is still in it, the energy is still there."
As that first summer ended and guests were clamoring for more, Walt Disney World Entertainment already was auditioning a full-time cast, and Hoop-Dee-Doo Revue opened as a permanent show on Sept. 5, 1974. Today, it's one of the country's longest-running dinner shows and has presented more than 37,000 performances. More than 10.5 million guests have seen the high-spirited show.
Read More »Celebrating 40 Years of Food and Fun at Hoop Dee Doo Revue