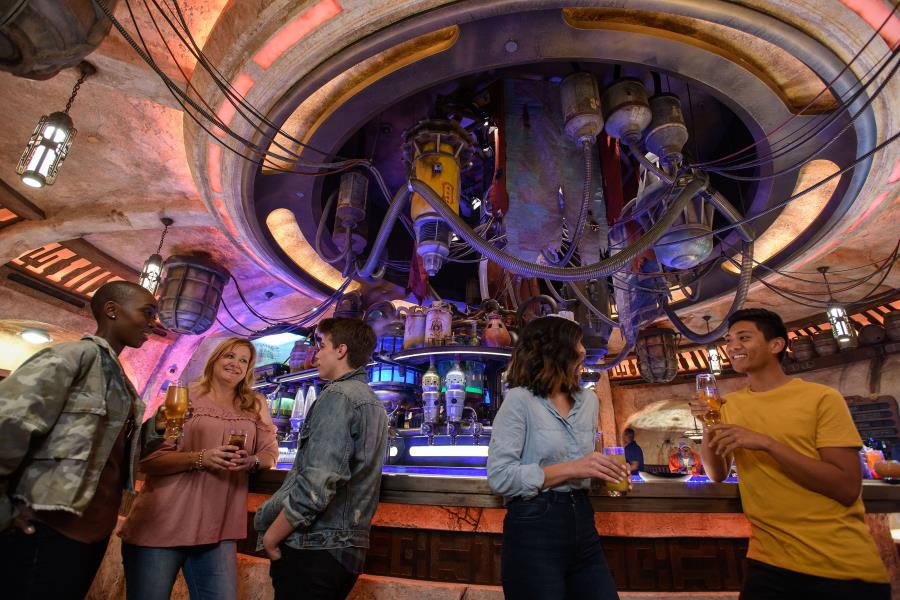 If you're planning on visiting Disneyland to explore the new Star Wars: Galaxy's Edge expansion once the reservation only period ends on June 24th, you'll need to know a few things ahead of time to make sure you don't miss out on your chance. The park will be operating a virtual queue via the Disneyland mobile app, which starts fresh each day. There are also virtual queues for popular locations like Oga's Cantina and Sa'vi's Lightsaber workshop.
Virtual Queues, aka Boarding Groups:
Beginning June 24, Disneyland may utilize a virtual queuing system, as needed, to help provide smooth access to the land. You are encouraged to download the Disneyland app before arriving and to check the app, or signage in the park the day of their visit, to find out if they need to be part of a boarding group to visit Star Wars: Galaxy's Edge that day. The boarding group will save a virtual spot in line and allow guests to enjoy other experiences as they wait to be notified of a time to enter.
Guests may use the Disneyland app to request to be part of a boarding group after entering Disneyland Park, if boarding groups are implemented that day. The app will allow guests to link the theme park tickets of everyone in their party together to request the same boarding group for the entire party.
Guests will be advised which boarding group is currently being admitted to the land on the app and also on digital signage in the park. Guests may also enable push notifications on their mobile devices to get a notification of when it's time to enter the land.
You have up to two hours to enter the land after your boarding group is called for admission.
For guests not using the Disneyland app, a boarding group may be obtained with a park admission ticket at select Disney FastPass service locations such as Haunted Mansion, Indiana Jones Adventure, Space Mountain, Splash Mountain and near the Matterhorn Bobsleds.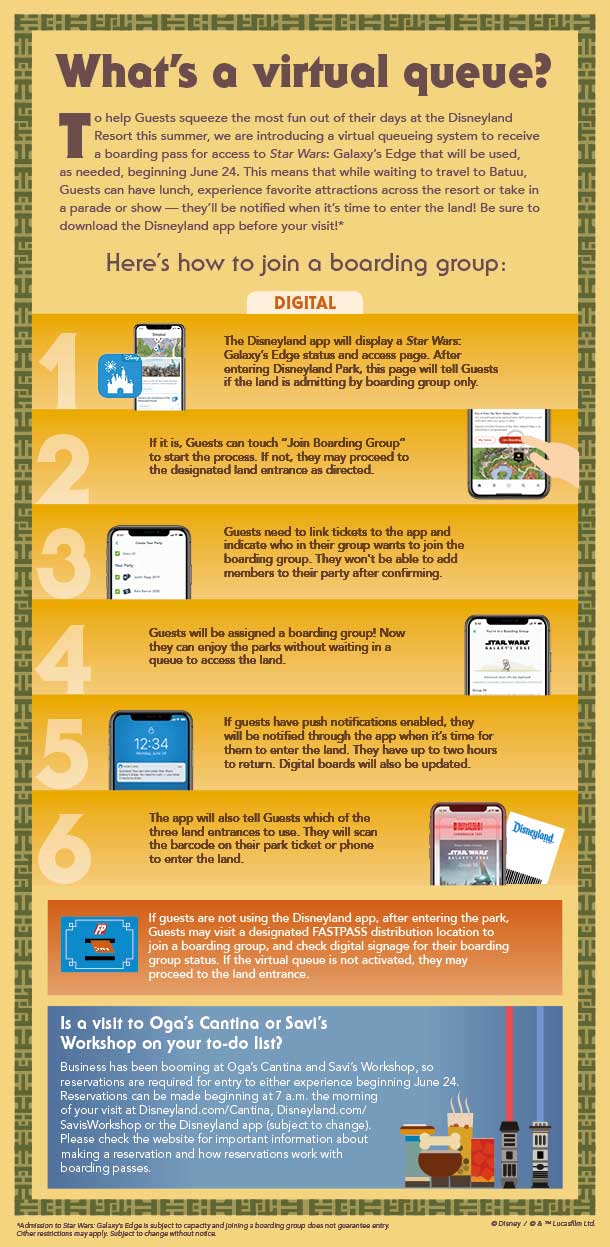 Tips from Disneyland's own insider here:
Reservations for Savi's Workshop and Oga's Cantina
Beginning June 24, Star Wars: Galaxy's Edge will no longer require a reservation to access the land. Reservations will be required for Savi's Workshop and Oga's Cantina, which have very limited capacities. Guests wishing to book a reservation for these experiences may do so on the same day of their visit, beginning at 7 a.m., with a valid credit card. Reservations for both experiences will allow access into Star Wars: Galaxy's Edge at the time of the reservation, so it will not be necessary to join a boarding group, if applicable, to enter the land to participate in a reserved experience. Additional important details are available at Disneyland.com/SavisWorkshop and Disneyland.com/Cantina.
Access to Star Wars: Galaxy's Edge will be monitored to make sure it doesn't reach capacity. Just having a boarding group (aka spot in the virtual queue) will not guarantee entry.
Don't let these rules prevent you from having your own amazing adventure. Instead take advantage of any time waiting in the virtual queue to enjoy the rest of Walt's park and the rest of the Disneyland resort.