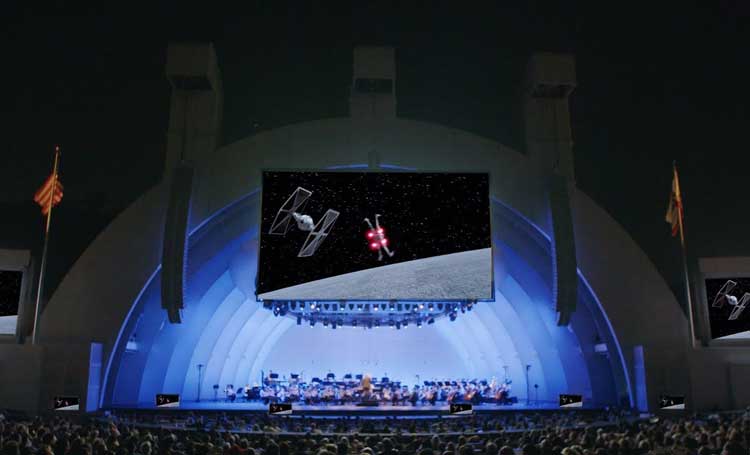 The John Williams' score for Star Wars films is Hollywood royalty and now you have another opportunity to hear it performed live in another Hollywood legend – The Hollywood Bowl. Next week, the Los Angeles Philharmonic will present screenings of the complete films in HD on the Hollywood Bowl's big screen "A New Hope" and "The Empire Strikes Back" with Oscar-winning composer John Williams' score performed live to the film. The concerts will be conducted by David Newman.
Fans are encouraged to show up in costume, but please refrain from using masks and/or costumed guns as part of your costume as these will not be allowed in the venue.
Newman is an Oscar-nominated composer ("Anastasia") scoring over 110 films and is a highly sought-after conductor leading orchestras throughout the world including the New York Philharmonic, Los Angeles Philharmonic, Royal Harmonic Orchestra, Deutsches Symphonie-Orchester Berlin, the Schleswig-Holstein Festival Orchestra, San Diego Symphony, Boston Symphony Orchestra, Philadelphia Orchestra, and the Cleveland Orchestra.
Since the release of the first Star Wars movie over 40 years ago, the Star Wars saga has made a seismic impact on both cinema and culture, inspiring audiences around the world with its mythic storytelling, captivating characters, groundbreaking special effects and iconic musical scores composed by John Williams.
Fans will be able to experience the scope and grandeur of the Star Wars saga in a live, symphonic concert experience with the Star Wars Film Concert Series beginning August 7 through August 11. The schedule is below:
Tuesday, August 7
8:00pm Concert – "A New Hope"
Friday, August 10
8:00pm Concert – "A New Hope"
Thursday, August 9
8:00pm Concert – "The Empire Strikes Back"
Saturday, August 11
8:00pm Concert – "The Empire Strikes Back"
Tickets start at around $25 and good seats are still available.
John Williams is well known for scoring all eight of the Star Wars saga films, beginning with 1977's Star Wars (A New Hope) for which he earned an Academy Award for Best Original Score. Most recently, his scores for Star Wars: The Last Jedi and Star Wars: The Force Awakens were nominated for an Oscar.
The Star Wars Film Concert Series is produced under license by Disney Concerts, the concert production and licensing division of Disney Music Group, the music arm of The Walt Disney Company.