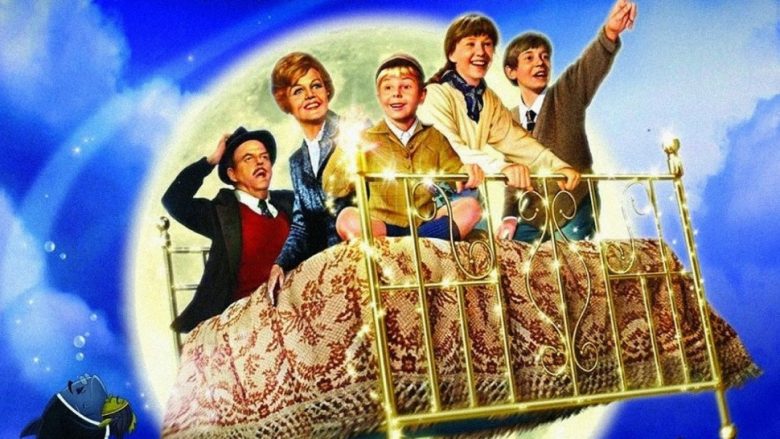 There's this fake movie poster going around that makes it look Disney is remaking a Bedknobs and Broomsticks movie with Kate Winslet in the role once held by Angela Lansbury. A quick trip to Snopes reveals it's just a fan-made movie poster, not a real Disney effort.
That fake poster might just be genius guerilla marketing because there actually is a new Bedknobs and Broomsticks production. Only it's not a remake of the beloved 1971 live action-animated movie musical, it's a stage musical.
Chicago Shakespeare will stage a production of the Disney film as part of its 2019 season. The original music from the movie written by Walt's favorite songwriters Richard and Robert Sherman will be used. The show will also incorporate two 'lost' Sherman brothers songs that were cut from the film. Additional music will come from composer-lyricist Neil Bartram and the book will be written Brian Hill. Rachel Rockwell is signed on to direct and choreograph the world premiere of the new musical.
Here's the description of the musical from Chicago Shakespeare:
"At the outset of World War II, three children evacuated from the London Blitz arrive in a seaside village on the doorstep of Miss Eglantine Price, a patriotic witch-in-training and inexperienced broom flyer. Through their fantastical misadventures, they discover that their strength—and their own true magic—lie in one another, paving the way to save their town and all of England."
For a hot second in 2016 there was an effort to have a remake of Bedknobs and Broomsticks by director Kevin Smith. I don't think it ever stood a chance of happening. But if Pete's Dragon had done better in the box office, who knows, right?
Similar to Mary Poppins, the movie is based on a series of English children's books. Chiefly The Magic Bedknob; or, how to become a witch in ten easy lessons by Mary Norton.
So what do you think? A new Disney stage musical is very exciting. I just didn't expect it to be Bedknobs and Broomsticks they tackled next.