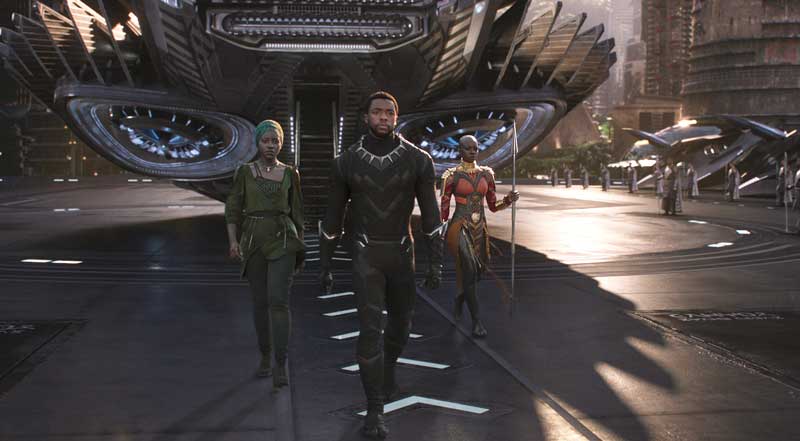 You can't have a Black Panther movie without an exploration of the hidden nation of Wakanda. In the Marvel Cinematic Universe, the African country is technologically advanced and the home to the much sought after natural resource vibranium, which is the material used for Captain America's shield and the Black Panther's super hero suit.
In just a few weeks, we finally get to see director Ryan Coogler's vision of Marvel Studios Black Panther including the nation of Wakanda. In the meantime watch the latest featurette.
Here is Wakanda Revealed:
Wakanda is rooted in tradition, but also has one foot clearly in the future. It's definitely one of the more unique creations of Stan Lee and his fellow Marvel comic book artists.
As a bonus watch the latest TV spot "Entourage"
About the film:
Marvel Studios' "Black Panther" follows T'Challa who, after the death of his father, the King of Wakanda, returns home to the isolated, technologically advanced African nation to succeed to the throne and take his rightful place as king. But when a powerful old enemy reappears, T'Challa's mettle as king—and Black Panther—is tested when he is drawn into a formidable conflict that puts the fate of Wakanda and the entire world at risk. Faced with treachery and danger, the young king must rally his allies and release the full power of Black Panther to defeat his foes and secure the safety of his people and their way of life.
"Black Panther" stars Chadwick Boseman, Michael B. Jordan, Lupita Nyong'o, Danai Gurira, Martin Freeman, Daniel Kaluuya, Letitia Wright, Winston Duke, with Angela Bassett, with Forest Whitaker, and Andy Serkis. The film is directed by Ryan Coogler and produced by Kevin Feige with Louis D'Esposito, Victoria Alonso, Nate Moore, Jeffrey Chernov and Stan Lee serving as executive producers. Ryan Coogler & Joe Robert Cole wrote the screenplay.
Marvel Studios' "Black Panther" hits theaters on February 16, 2018.