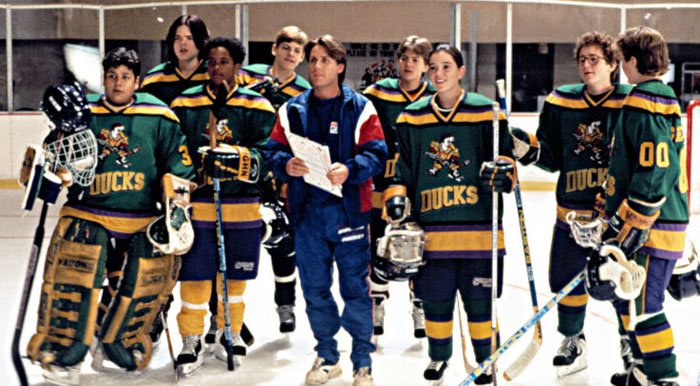 Just when you thought it was safe to go back on the ice, Disney is reportedly dusting off the skates of the "The Mighty Ducks" with a possible TV series in mind. The original movie premiered in 1992 and started Emilio Estevez as the reluctant coach of a ragtag hockey team that competed its way to glory.
Disney no longer has any interest in the NHL's Anaheim franchise, but Disney was inspired by the movie's success to give their hockey team the name and logo of the Mighty Ducks (talk about synergy, right?).
Diehard Disney afternoon fans also remember the animated television series about the Mighty Ducks, which debuted in 1996. It lasted 26 episodes. Hopefully they'll stay away from idea of anthropomorphized duck super-hero hockey players.
Disney has reportedly brought back on Steven Brill, who penned the scripts for the original movie trilogy (yes, they made three of them) to work on the potential series concept. The classic underdog coach makes good sports story is ripe for revisiting, but nothing has officially been announced as to the direction this series will go.
This new series is believed to be developed at ABC's Signature Studios which develops cable TV and streaming shows for The Mouse House. According to the Hollywood Reporter, Disney hopes the Mighty Ducks can appeal to a global audience.
Would you be interested in watching a series that is one part Friday Night Lights, one part Bad News Bears, and one part Slap Shot? (Bonus points if you've watched all three of those.) What do you think of the idea of bringing back the Mighty Ducks?
Would you like this to be remake, reboot, or a continuation of the original movie trilogy?