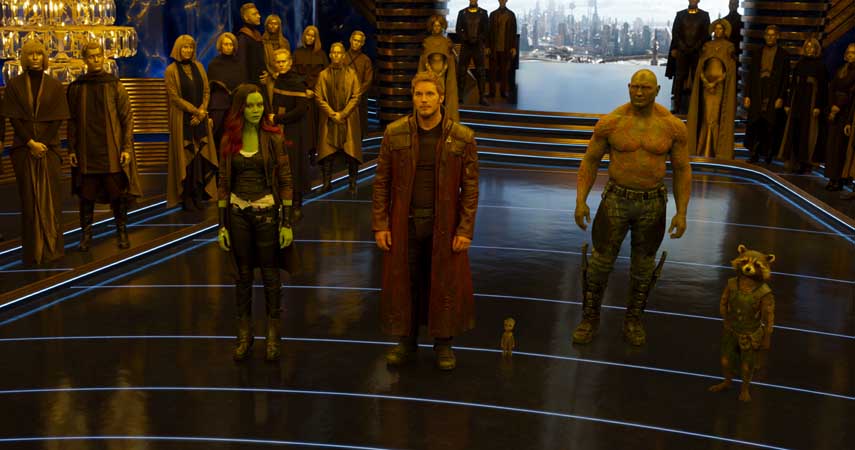 Tonight the world premiere of the new trailer for Marvel's Guardians of the Galaxy debuted on ABC's Jimmy Kimmel. The gang is back together, possibly with a few new members and allies. Things are getting weird and Star Lord's dad is somewhere in the mix. Are you ready?
As expected, that was pretty awesome. I did the appearance of the old handheld football game in Star Lords' hand at the beginning. I so had one of those and played it all the time. Here are some of the amazing moments from the trailer captured in new still images:
And we finally get a proper poster for the film too. Check out the fantastic colors and action poses.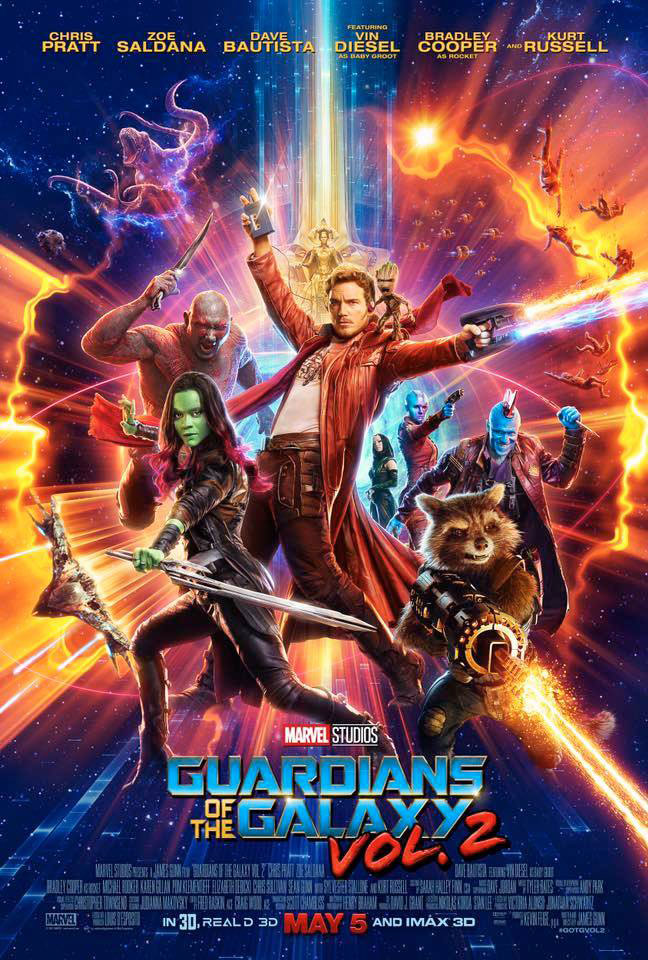 The last poster was in black and white, which was great in a punk sort of way, I think this one is more in the spirit of a movie that includes its musical soundtrack as a character in the film.
About the film
Set to the all-new sonic backdrop of Awesome Mixtape #2, Marvel Studios' "Guardians of the Galaxy Vol. 2" continues the team's adventures as they traverse the outer reaches of the cosmos. The Guardians must fight to keep their newfound family together as they unravel the mystery of Peter Quill's true parentage. Old foes become new allies and fan-favorite characters from the classic comics will come to our heroes' aid as the Marvel Cinematic Universe continues to expand.
"Guardians of the Galaxy Vol. 2" is written and directed by James Gunn and stars Chris Pratt, Zoe Saldana, Dave Bautista, featuring Vin Diesel as Baby Groot, Bradley Cooper as Rocket, Michael Rooker, Karen Gillan, Pom Klementieff, Elizabeth Debicki, Chris Sullivan, Sean Gunn, Tommy Flanagan, Laura Haddock, with Sylvester Stallone and Kurt Russell. Kevin Feige is producing, and Louis D'Esposito, Victoria Alonso, Jonathan Schwartz, Nokolas Korda and Stan Lee are the executive producers.
Marvel Studios' "Guardians of the Galaxy Vol. 2" blasts into theaters on May 5, 2017.
Previously: First Guardians of the Galaxy Vol. 2 Trailer.