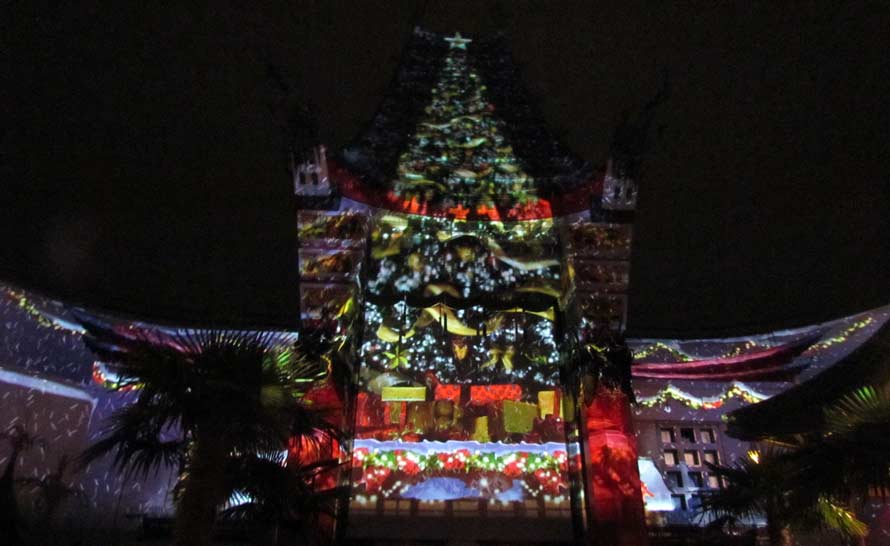 Jingle Bell, Jingle BAM! is the hit of the holidays for 2016 at Walt Disney World. Included with your admission to Disney's Hollywood Studios. Taking place after dark, the projection, laser, and firework show takes place chiefly on the facade of the Great Movie Ride, but also all around 'center stage' in the middle of the park.
The show stars Wayne and Lonny from "Prep & Landing" as they attempt to find the big fella (aka Santa) for a special chat with Orlando. The resulting search takes you through moments from favorite Disney films, classic holiday songs and snow! The end effect is a rocking holiday party with a large side of nostalgia for Disney fans.
Here, Show Director Tom Vazzana talks about bringing his vision for the show to life.
As with the Star Wars: A Galactic Spectacular show that uses the same digital mapping projection technology, there is limited optimum viewing areas for the show. However, Vazzana wanted to make sure that the chief elements of the show are repeated as much as he could. This means that you could stand a bit to the side and get a diffferent, but still very entertaining experience. There's so much to see, the best idea is to see Jingle BAM! multiple times.