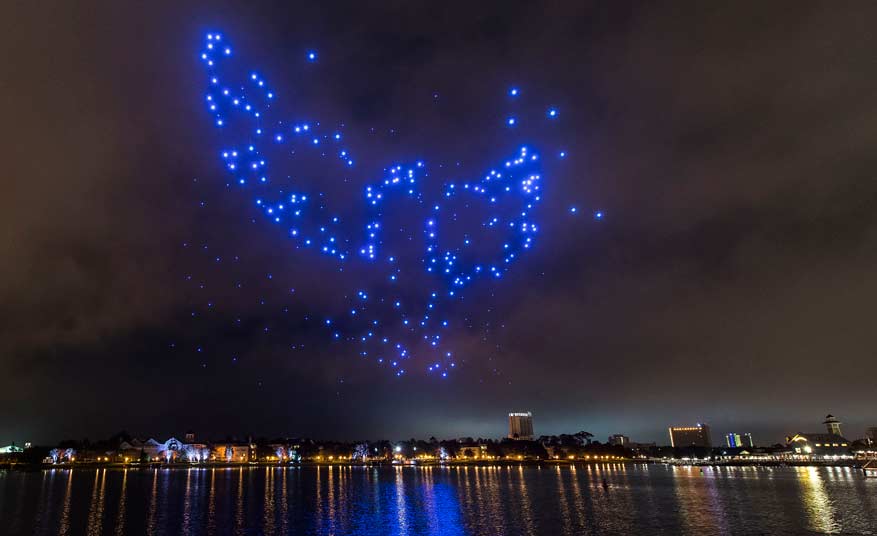 Guests at Disney Springs now have one more reason to stay after dark – a new collaboration between Disney and Intel has resulted in a remarkable new technology as hundreds of lighted show drones take to the nighttime sky in "Starbright Holidays – An Intel Collaboration."
Update 6pm 11/18: Disney just announced that the first shows of "Starbright Holidays – An Intel Collaboration" will begin on Sunday November 20. Performances will be held twice nightly at 7:00 p.m. and 8:30 p.m. from Nov. 20 – Jan 8.
The first-of-its-kind light show features 300 Intel Shooting Star drones. Guests across Disney Springs, but especially water side in the WestSide district, can gaze skyward and enjoy the synchronized choreography of the new Intel Shooting Star drones. The 5-minute show is set to a specially orchestrated arrangement of classic holiday music.
As a first generation experimental show, I'm impressed. The video above doesn't really do it justice. For me the spinning Christmas tree was the must impressive part. I'm told the drones are capable of doing many more different configurations, but that due to battery issues, they have to limit the length of the show. Which actually works out very well. If Disney Springs were to host 3-4 shows every night (one an hour, let's say) it would encourage guests to come out before or after dinner or perhaps stay a little longer and do some more shopping to see the next show.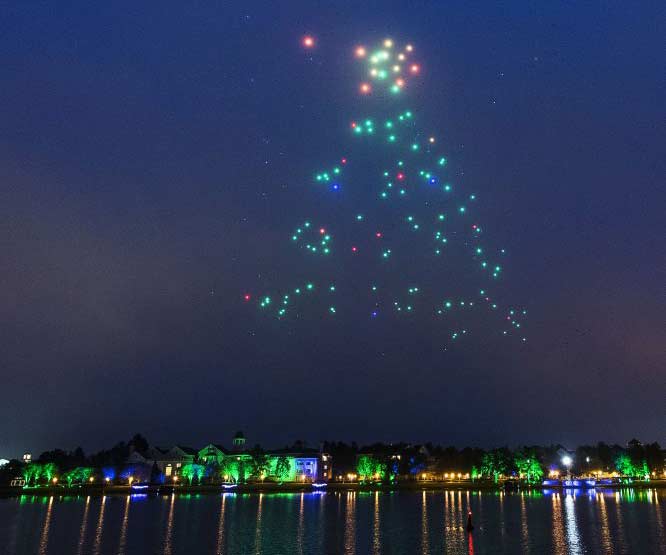 "We are thrilled to share an experience as innovative and unique as Disney Springs," said Keith Bradford, Vice President of Disney Springs. "'Starbright Holidays' is a wonderful surprise and delight moment for guests as they enjoy an evening of world-class shopping, dining and entertainment here at Disney Springs."
Added Jon Snoddy, Studio Executive with Walt Disney Imagineering R&D, "At Disney, we are always looking for innovative ways to tell stories and create unexpected experiences. We're excited to invite guests to watch as we explore the possibilities of this remarkable new technology."
"Starbright Holidays – An Intel Collaboration" marks the first time in the United States 300 show drones have flown at one time. At 280g, the Intel Shooting Star drone weighs less than a volleyball, and features built-in LED lights that can create more than four billion color combinations.
"We are excited to work with Walt Disney Imagineering to bring a fresh and innovative approach to its world-renowned light shows," said Senior Vice President and General Manager of Intel's New Technology Group, Josh Walden. "Together, we worked to tackle the new frontier of entertainment, picturing the sky as our canvas, and flying lights as ink."
"Starbright Holidays – An Intel Collaboration" will join other holiday enhancements at Disney Springs, including a brand-new Christmas Tree Trail, special seasonal entertainment, meet and greets with Santa, and festive decor throughout all four neighborhoods – Town Center, The Landing, West Side and Marketplace. No official debut date has been set, but we'll let you know as soon as we hear more about when a regular schedule might be set