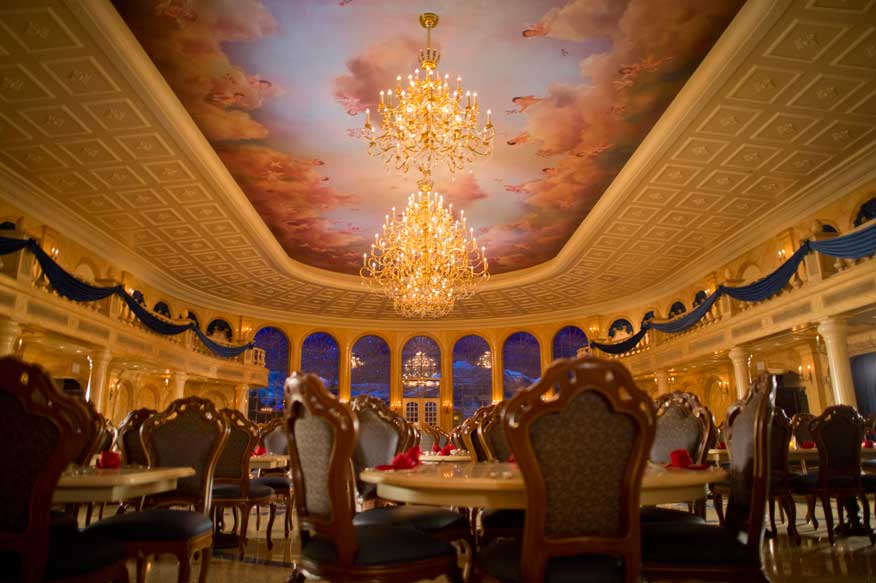 Guests were evacuated from the Beauty and the Beast themed Be Our Guest restaurant at the Magic Kingdom earlier tonight. Twitter user Brian Carey captured the moment on video:
Be Our Guest is on fire. We're being evacuated. There's a weird smoke smell pic.twitter.com/pK7i91Q0gc

— Brian Carey (@BrianCarey_) August 15, 2016
Although some reported smelling smoke, it turns out it was just a false alarm and after a few minutes guests were allowed back into the building.
Here's what guests received to compensate them for their trouble:
Everything pictured is what we got for free because we were evacuated from Be Our Guest pic.twitter.com/Jj6dIuA8gn

— Brian Carey (@BrianCarey_) August 16, 2016
That's a very valuable six person use at any Fastpass Plus attraction fastpass. Free desserts and a few drink tumblers.
Not too shabby… that's what I call guest recovery.
Have you dined at Be Our Guest in New Fantasyland under Beast's Castle? What was your experience like?
(photo courtesy Disney. Matt Shoshane photographer)