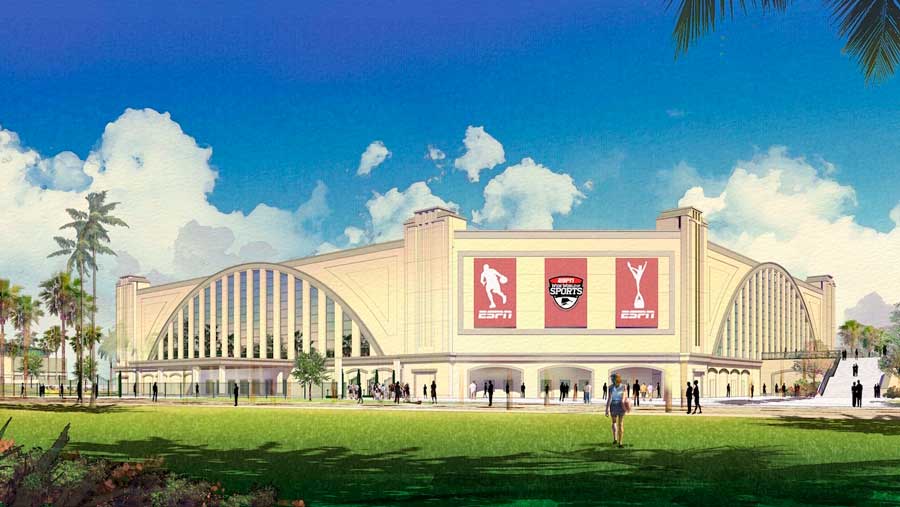 We last talked about a new Cheer and Dance venue at ESPN Wide World of Sports complex back in February. The new indoor venue will be adjacent to the Jostens Center and now we're getting our first look at exactly how it will fit in with the classical theming of the complex.
While the primary focus will be providing a venue for cheer and dance competitions, the facility will feature a flexible design that can seat as many as 8,000 fans or be divided to host a variety of other sports including basketball and volleyball, and even concerts (which I think is a great addition to ESPN WWOS).
The new venue will also include the specialized warm up and practice areas that Cheer and Dance competitions require, plus spaces for judges and officials. Like all events at ESPN WWOS, participants will also be a part of the unique world of ESPN complete with shows created just for attendees at the complex that day. You'll also find the usual concessions and as well as a new box office and entry to the complex.
Work is already underway and the facility is projected to host its first event just 18 short months from now. Although Disney has some great facilities already for Dance and Cheer events (including other spaces at ESPN WWOS), the new space will be a great fit for the growing number of prestigious cheer and dance competitions hosted by Disney.
I continue to count ESPN WWOS as Walt Disney World's 5th gate. I just wish they'd add more venues that everyone could enjoy, not just someone there to participate in or watch a sporting event. How about you?