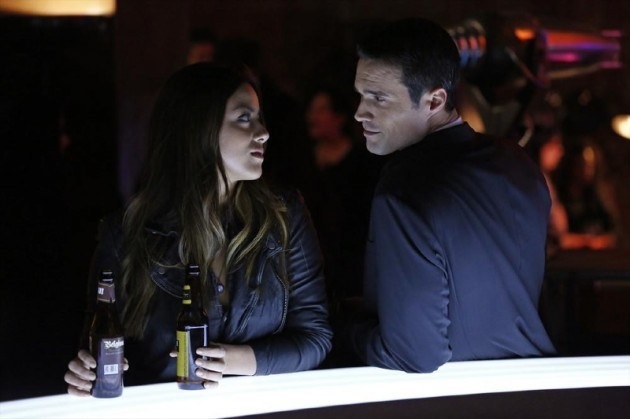 A screen test is a tool that captures those awkward few minutes when Hollywood producers and directors check to make sure the actors they think might be great for a particular role actually have any screen chemistry. For Marvel's Agents of S.H.I.E.L.D. no on screen relationship could have been more important than that of Chloe Bennet (Skye) and Brett Dalton (Ward).
There you have it folks, the very first moments of SkyeWard. You can see why director Joss Whedon felt this would make for great on screen fun.
Here are a few fun facts you may not know about Bennet from her official bio:
Chloe Bennet grew up on the south side of Chicago, her father a first generation Chinese-American and her mother Caucasian. Bennet's family consists of six brothers – three siblings are biological and three siblings are adopted (African-American and Mexican, respectively). Additionally – and to this day – in any given year you may find foster and/or foreign exchange students living in the Bennet home; their story is a real-life multicultural Cosby show.
Bennet was educated in the Montessori system, where she developed a love of performing and singing. At the age of 12, she joined the Second City Youth Ensemble, where she studied acting and improv. At 15 she was discovered by a music manager who immediately signed her and arranged for her to move to China, where she lived with her paternal grandmother and began intensive Mandarin studies in Shanghai. During this time, she began making regular trips to Sweden to record with some of the same songwriters and producers behind Britney Spears, Miley Cyrus, Celine Dion, Jennifer Lopez and Madonna, among others.
Bennet recorded and released her first single/video in China for her song, "Uh Oh." The song and the video were shot in English and Mandarin and went on to become hugely popular in China. Based on the success of her "Uh Oh" video, she was invited to perform at the Zebra Music Festival, a three-day charity event to benefit victims of the 2008 Sichuan earthquake. With over 30,000 people in attendance, the event was broadcast to more than 100 million homes in China. It was Bennet's first live performance, and she emerged as one of the most impressive acts on the bill. She has also been featured in fashion and lifestyle articles in Chinese Vogue, Elle, In Style, Cosmopolitan, China Daily and numerous other Chinese publications.
In the summer of 2010, Bennet landed her first role as a co-host on the TeenNick television show "The Nightlife."  She also guest starred on ABC's "Nashville."