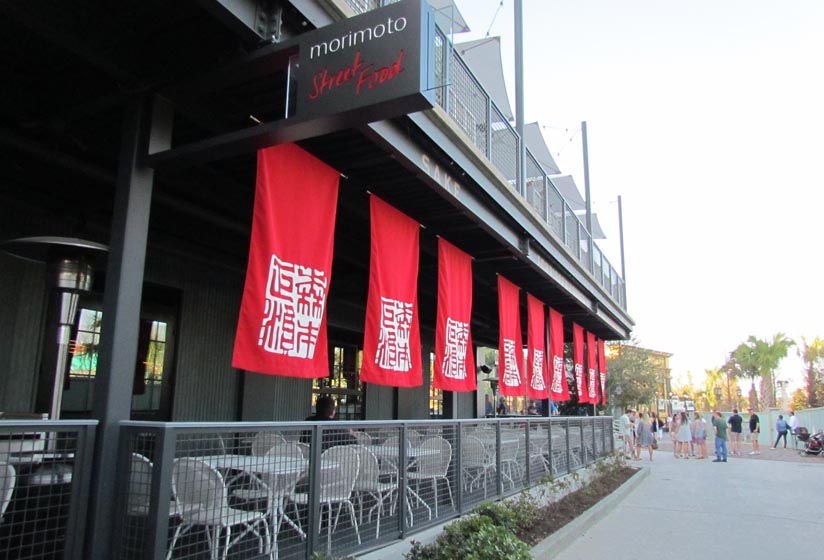 Although the downstairs window Street Food at Morimoto Asia has been open during some of the busy vacation periods, the opening of the patio location won't officially happen until May 15th, when many of the nearby Town Center locations also open. With the official opening comes a new menu inspired by Japanese street food, something we spoke to executive chef Yuhi Fujinaga about in March.
The new menu at the down-stars window features tastes from across the Asian continent and will vary slightly from day to day. However, you can get an idea of the offerings from the following list.
"Snacks" including takoyaki (octopus, nori, okonomiyaki sauce), Morimoto sticky ribs, curry rice croquette, taiyaki (snapper shaped sweet pancake filled with sweet adzuki red bean paste) and pork egg roll (pork, cabbage).
"Bao Tacos" including kalbi (kimchi, scallions), chicken teriyaki (spicy mayo, cucumber, lettuce, teriyaki) and pork (spicy mayo, cucumber, lettuce)
"Donburi" (rice bowls) in a variety of styles including Japanese beef curry, char-siu don (braised pork belly, scallions, pickled ginger) and chicken teriyaki don (braised chicken, carrots, broccoli).
"Sushi (rito) and Onigiri" including California roll (guacamole), shrimp tempura roll (lettuce, cucumber), orange chicken roll (lettuce, sesame, orange glaze), vegetable roll (cucumber, lettuce, carrots, guacamole), sake onigiri (grilled flaked salmon, Morimoto premium white rice) and edamame & shiso onigiri (Morimoto premium white rice).
"Street food holds memories of my childhood. It reminds me of the local festivals and events of my hometown," said Chef Morimoto. "I am excited that our new street food will transport guests to Asia and the marvelous cuisines that inspired my menu creations."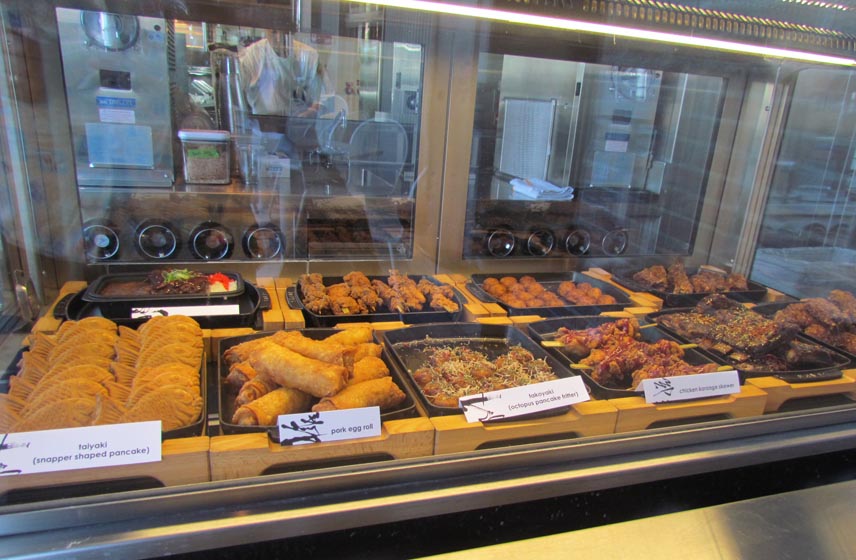 Everything we sampled was amazing. If the Taiyaki (fish shaped bean paste pancakes) are on the menu or the Takoyaki (octopus pancake fritter) or, as you've no doubt heard about, the Morimoto sticky ribs, don't pass up your chance to try them.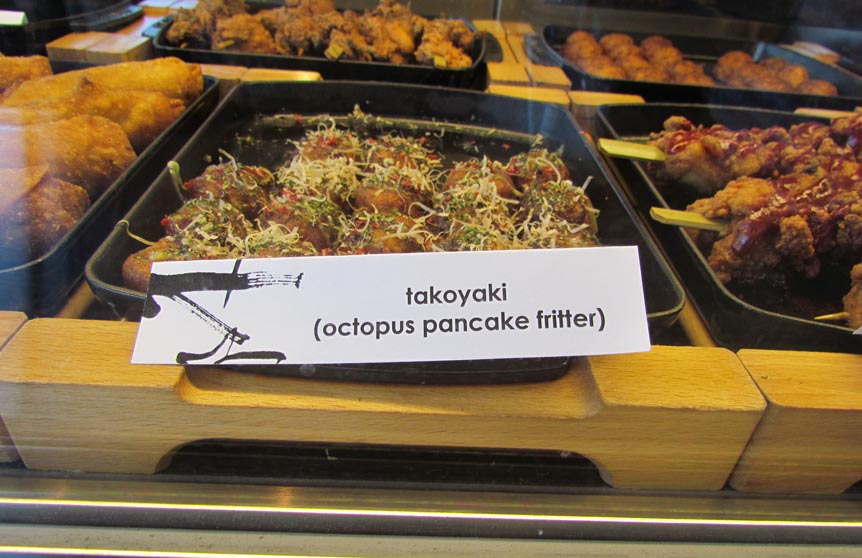 The new window officially opens on the 15th, but if you stop by earlier, you may get lucky. The idea of the window is that it will open later in the day when the main restaurant gets busy, but also stay open to service the late night / early morning crowds. I know I'll be back to check out the Morimoto Asia Street Food window menu as soon as I can. How about you?