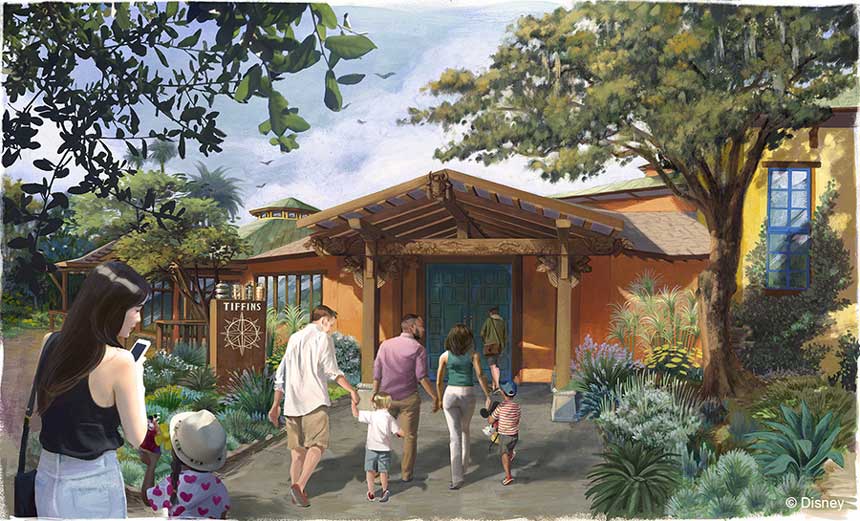 I stopped by Disney's Animal Kingdom this weekend to catch up on the status of its myriad projects. Among them is a new sit-down dining experience that will soon open on Discovery Island. Tiffins will focus on dishes a world traveler might encounter in regions like Europe, Africa, Asia, and the Americas.
The name Tiffins comes from the Indian word for a stack of round metal cans often used by travelers for a mid-day meal (hence its second meaning of mid-day meal). The 252-seat restaurant will open for lunch and dinner.
In a statement, Disney's Imagineer Emily O'Brien described Tiffins as "the signature restaurant at Disney's Animal Kingdom, celebrating the culture of design and research that went into creating this unique park."
O'Brien describes the interior design as "a gallery you can dine in with artwork that is a direct result of travels to Africa, Asia and South America which influenced the design of the park."
"All the senses are explored and turned into amazing works of art," said O'Brien. "The galleries, or dining rooms, focus on Asia [Trek Gallery with 74 seats] and Africa [Safari Gallery with 64 seats], and the third [Grand Gallery with 114 seats] pays homage to animal species that the Disney Conservation Fund works to protect."
Additional travel-inspired artwork will include a a static, three-dimensional piece that features prayer flags blowing in the wind. "As our research team traveled up the high mountains of Nepal, the winds were strong," explained O'Brien. "The prayer flags are rarely seen hanging, they are always blowing."
"Tiffins is not about a make-believe place, it's about real people and places," said O'Brien.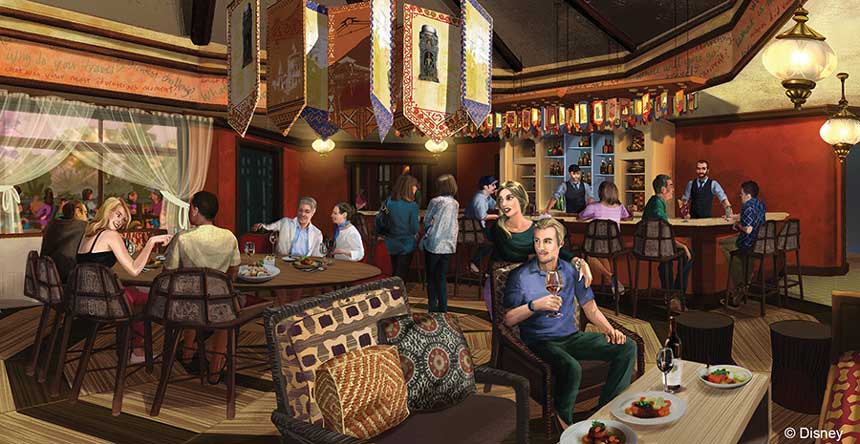 Adjacent to Tiffins will be the Nomad Lounge will feature a view of the river between Discovery Island and the otherworldly Pandora – The World of Avatar and focus on guests' travels and telling stories