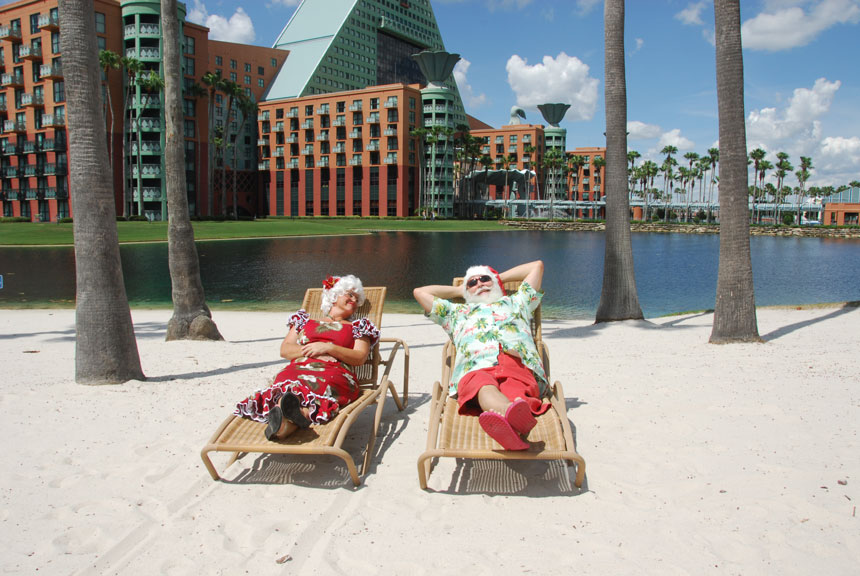 Santa and Mrs. Claus are bringing their favorite elf, Kandy Kane, for a special jet setting vacation at Santa's Favorite Resort – The Walt Disney World Swan & Dolphin Hotel, of course. I'll have to admit, they've chosen a pretty nice destination for their pre-Christmas run of fun. Plus there's a Tiki Hut. You can't beat that.
All December long you'll find the trio entertaining children and kids at heart at the EPCOT area resort. Along with special resort rates, there's a fun line up for guests to enjoy:

Santa and Mrs. Claus Meet 'n Greets
Decked out in their Florida vacation attire, Santa, Mrs. Claus and Kandy Kane meet guests in Santa's customized Tiki Hut on select nights. Featuring reindeer, palm trees and flamingos, this holiday photo opportunity is like no other.
Life-Size Chocolate Holiday Santa Scene
Constructed entirely of chocolate, this life-sized sculpture weighs in at approximately 2,000 pounds! The sculpture, created by the hotel's executive pastry chef Laurent Branlard (the only two-time world pastry champion), is showcased in the lobby of the Swan. It features chocolate Santa sitting in his chair, a 7-foot tall, 400-pound chocolate nutcracker, chocolate fireplace, chocolate Christmas tree and chocolate toy train. The scene will be displayed in the lobby of the hotel throughout December and is 100 percent edible. However, any chocolate lovers thinking of taking on the challenge of consuming this enormous sweet, should consider that it is 4 million calories! (By the way, the sculpture is not available for tasting!)
A Florida Snow Fall and Tree Lighting Ceremony
With the help of some holiday magic, guests can experience a snow fall in the comfort of the Dolphin lobby. Throughout December, the lobby is transformed into a festive holiday scene featuring a 45-ft tall Christmas tree surrounded by a holiday train set. The scene is completed with regularly timed snow fall. This snow, however, requires no shoveling. On select nights, guests can join Mrs. Claus for the lighting of the Christmas tree, followed by hot holiday beverages and crafts for kids at Santa's Tiki Hut.
Bedtime Elf Tuck-Ins
Even after Santa's elves have finished making presents, their work isn't really finished! On December 24, a fully costumed elf will deliver milk, cookies, a plush toy and storybook to the room, read a bedtime story and tuck children into bed before Santa arrives. This premium service costs $59 for one child and $25 for each additional child. A service charge of 20 percent is added. Reservations are required and space is limited.
Dancing Lights Show
A dazzling musical light show transforms the outdoor causeway each evening into a holiday spectacle with dancing illuminated palm trees and favorite holiday tunes.
On select nights, guests can catch entertainment by carolers, choirs and musicians in the hotel lobbies, on the causeway and in other public areas throughout the hotel.

Magic Keys for Santa
How will Santa deliver presents to each guest room without a chimney? With a magic key! Children can hang a magic key on their door to help Santa find his way on Christmas Eve. Magic keys are available at the concierge desk.

Dessert Decorating and Holiday Movies
Throughout December, families can tune in to free holiday-themed movies either on their guest room televisions or, on select nights, on a large screen on the hotel's private beach. Children can also decorate delicious holiday sweets in the lobby.
Sounds like a real winter wonderland. Join me in December on a short walk from EPCOT or Disney's Hollywood Studios and take in some of the unique holiday fun at the Swan and Dolphin Resort.