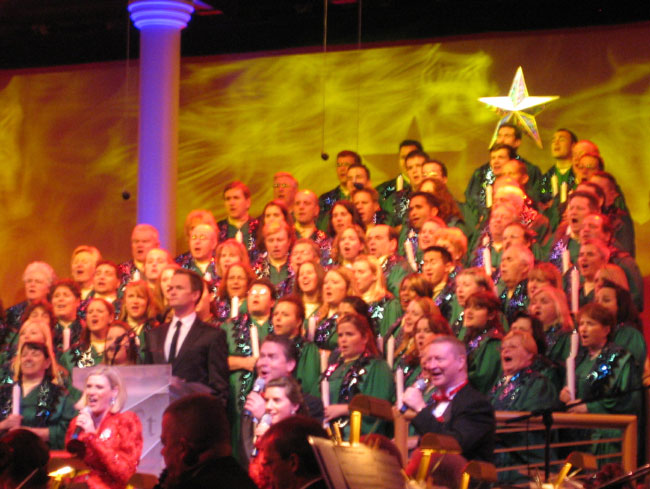 The 2015 EPCOT Candlelight narrator list will feature some of the biggest names of both the big and small screen. Among the newly added guests are three of ABC's biggest stars Chandra Wilson from "Grey's Anatomy," Daniel Dae Kim of "Lost," and "Ugly Betty"'s America Ferrera. Also new to the list is journalist Meredith Vieira, who was one of the original panelists on "The View."
Here's the full list: (entertainment and times subject to change, of course)
11/27 – 11/29 — Gary Sinise
11/30 – 12/3 — Neil Patrick Harris
12/4 – 12/5 — Whoopi Goldberg
12/6 – 12/8 — Joe Morton
12/9 – 12/11 — Ana Gasteyer
12/12 – 12/14 — Meredith Vieira – NEW
12/15 – 12/17— America Ferrera – NEW
12/18 – 12/20 — Chandra Wilson – NEW
12/21 – 12/23 — Daniel Dae Kim – NEW
12/24 – 12/26 — Edward James Olmos
12/27 – 12/28 – Blair Underwood
12/29 – 12/30 — Amy Grant
The Candlelight Processional is one of the most popular elements of the Holidays Around The World celebration at EPCOT. If you've never seen it before, it's a dramatic re-telling of the Christmas story. Even if religion isn't your thing, the huge choir and live symphony orchestra put on a concert that you'll remember forever.
This year's event runs nightly at The America Gardens Theatre at Epcot from November 27 to December 30. It is presented three times per night — 5 p.m., 6:45 p.m. and 8:15 p.m.. If you want guaranteed seating, you can try the dining packages, but you're usually able to secure a seat with minimal wait at the last show of the evening. That may not be true for the most popular celebrity narrators, so your mileage may vary.
Which Celebrity Narrators are you most excited about seeing?