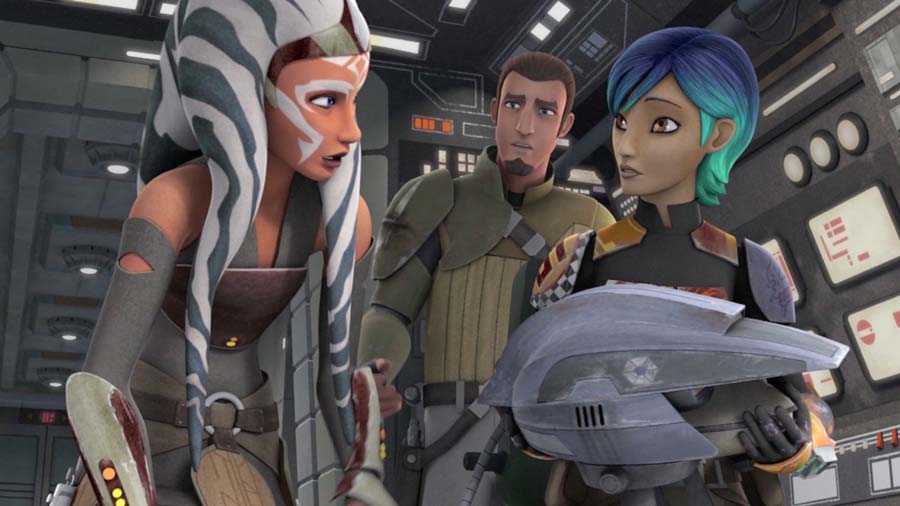 Don't be Bantha fodder and miss the debut of season 2 of the critically-acclaimed animated series — Star Wars Rebels. New episodes start Wednesday, October 14 (9:30 p.m., ET/PT) on Disney XD. The first preview of the new season has just been released by Disney and Lucasfilm.
In Star Wars Rebels Season Two, past lives will be revealed and the destiny of our heroes will be changed forever. The transformative new season resumes with Imperial oppression on Lothal growing stronger and the Rebels seeking out new allies and additional resources to sustain their fight against the evil Empire. With the help of Ahsoka Tano, the crew of the Ghost enlists some old friends: ex-clone troopers who fought in the Clone Wars.
As the Rebels grow in number, so do their enemies. New Inquisitors are dispatched by Darth Vader and sent to crush any threat of rebellion. Through dangerous rescue missions, thrilling space chases, and spectacular lightsaber duels — the bond of our Rebel crew will be put to the test like never before.
Here's a special clip from the first episode of Season 2 "Someone you can count on":
Before watching Season 2, be sure to get caught up on all the events that brought the galaxy to the brink of civil war. Star Wars Rebels: Complete Season One is available on Blu-Ray and DVD next Tuesday, September 1 and delivers all 15 action-packed episodes plus never-before-seen bonus material including cast and crew interviews revealing the magic behind the making of the hit series.
Star Wars Rebels is created by Dave Filoni (Star Wars: The Clone Wars), Simon Kinberg (X-Men: Days of Future Past, Sherlock Holmes), and Carrie Beck. The Lucasfilm Animation production is executive-produced by Filoni and Kinberg, and co-executive produced by Henry Gilroy.
The talented voice cast includes Freddie Prinze Jr. as Kanan, Vanessa Marshall as Hera, Steve Blum as Zeb, Tiya Sircar as Sabine, Taylor Gray as Ezra, Ashley Eckstein as Ahsoka Tano, Dee Bradley Baker as Captain Rex, Captain Gregor and Commander Wolffe, and David Oyelowo as Agent Kallus. Sarah Michelle Gellar will also star in Season Two with more details on her character forthcoming.
Will you be tuning in for season 2 of Star Wars Rebels?