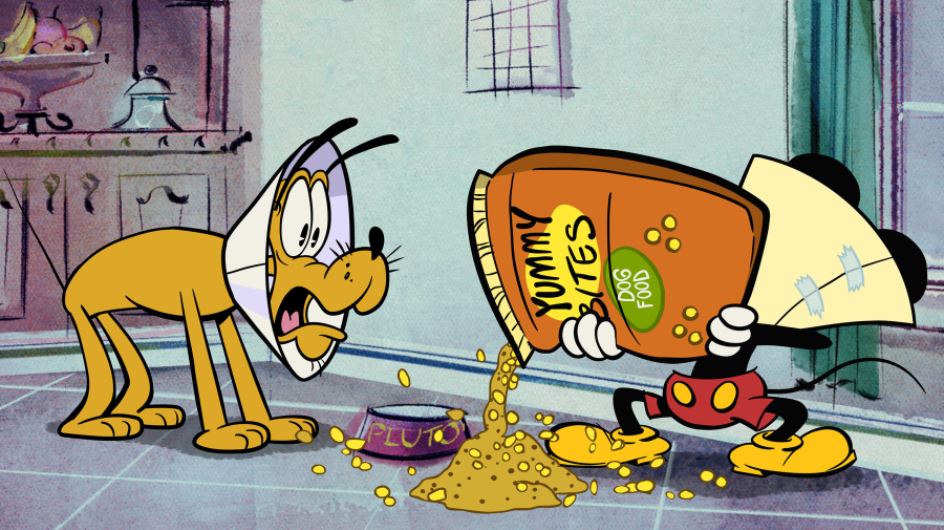 Season three of the "Mickey Mouse" animated short series debuts Friday, July 17 (8:25 p.m., ET/PT) on the Disney Channel, and will be available on WATCH Disney Channel, and iTunes the day after the cable premiere. A must-see hit since its premiere in June 2013, the shorts have reached nearly 124 million unduplicated viewers worldwide, airing in 163 countries and in 34 different languages.
Season three of the comedic shorts features Mickey and pals – Minnie Mouse, Donald Duck, Daisy Duck, Goofy and Pluto – facing prickly predicaments and sentimental moments in locales around the globe including England, Mexico, Turkey, Egypt and Hawaii, as well as adventures at home.
In the season opener, "Coned," Mickey and Pluto's day becomes a series of mishaps when Mickey, sympathizing with his injured pup Pluto, decides to 'cone' himself.
Other new episodes include "One Man Band," which takes Mickey on an adventure through London in pursuit of a suitable spot for his one-man band to perform, Friday, August 14 (9:25 p.m., ET/PT) and "Wish Upon A Coin," which makes its television debut Friday, August 21 (9:25 p.m., ET/PT).
A special "Snow White and the Seven Dwarfs" inspired episode titled "Wish Upon A Coin" will make its global debut at D23 Expo, Disney's ultimate fan event, on August 14 in Anaheim, California.
Emmy Award-winning artist and director Paul Rudish ("Star Wars: Clone Wars," "Dexter's Laboratory") is executive producer and supervising director. Emmy Award winners Dave Wasson ("Star vs. The Forces of Evil") and Alonso Ramirez Ramos ("Gravity Falls") join Clay Morrow ("The Powerpuff Girls") as directors, and Emmy Award winner Joseph Holt ("Sym-Bionic Titan") is art director. The series is produced by Disney Television Animation.