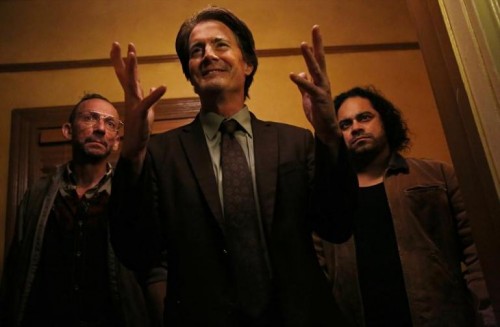 The official plot synopsis from Marvel's Agents of S.H.I.E.L.D. Season 2 Episode 13 is out. And it's the Villians, led by Skye's father Doctor Cal Zabo, who are out for revenge.
In the episode, titled "One of Us," Cal seeks revenge on Coulson by assembling a team of Super Villains to destroy S.H.I.E.L.D. Meanwhile, May calls on renowned Dr. Andrew Garner (Blair Underwood), her charismatic ex-husband, with a crisis that threatens to tear the team apart.
In this clip from Marvel, we see that Cal, Karla, and their band certainly know how to make an entrance:
"Marvel's Agents of S.H.I.E.L.D." stars Clark Gregg as Director Phil Coulson, Ming-Na Wen as Agent Melinda May, Brett Dalton as Grant Ward, Chloe Bennet as Agent Skye, Iain De Caestecker as Agent Leo Fitz, Elizabeth Henstridge as Agent Jemma Simmons, Nick Blood as Lance Hunter and Adrianne Palicki as Bobbi Morse.
Guest starring are Henry Simmons as Alphonso "Mack" Mackenzie, Kyle Maclachlan as The Doctor/Cal, Jamie Harris as Gordon, Blair Underwood as Dr. Andrew Garner, Drea De Matteo as Karla Faye Gideon, Ric Sarabia as Wendell Levi, Geo Corvera as Francis Noche, Jeff Daniel Phillips as David A. Angar, Gregg Martin as student, Jack Kennedy as security guard and Jamal Duff as John Bruno.
"One of Us" was written by Monica Owusu-Breen and directed by Kevin Tancharoen. "Marvel's Agents of S.H.I.E.L.D.," airs Tuesday at 9:00 PM ET on ABC!