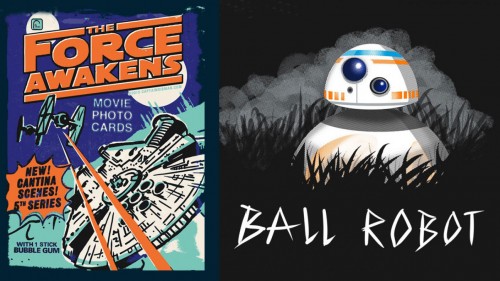 Two fantastic new Star Wars: The Force Awakens inspired t-shirt designs on Tee Fury this morning. From designer Captain Ribman comes your first chance to buy a riff on a bubble-gum collector card wrapper "Twin Sun Battle" featuring Tie-Fighters and the Millennium Falcon. Competing is artist Oakenspirit's first ever design for Tee Fury "Ball Robot." It's a spoof of J.J. Abrams production company logo replacing the Bad Robot with BB-8 the ball robot from episode vii.
The t-shirt battle is on and your purchase helps decide which design wins. The price for either is just $11, but you have to order before midnight tonight.
Which Star Wars inspired has the force on its side?