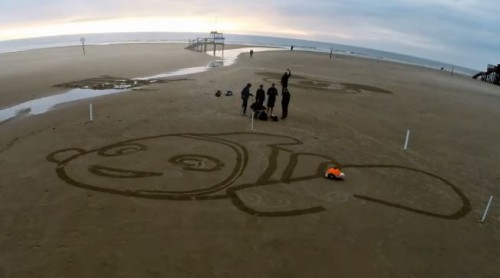 Many of the wonderful projects to come out of Disney's vaunted research labs are related to enhancing movie or theme park production in some way (advanced animatronics, safety features, computer animation short-cuts, etc). But this latest product might end up on your local big box store's shelves for consumer purchase.
BeachBot looks like a orange Turtle beach toy, but it's really a self-driven autonomous robot that creates large scale drawings in the sand. It's also cute, which will help if Disney does decide to sell it retail.
The drawing process comes from the three-wheeled bot's rake attached to the tail of the Turtle-bot. The rake an vary the width of the line in the sand adding to the amount of detail of the beach art. The Turtle-shell protects the bot's vital equipment from sand and other hazards found on the beach.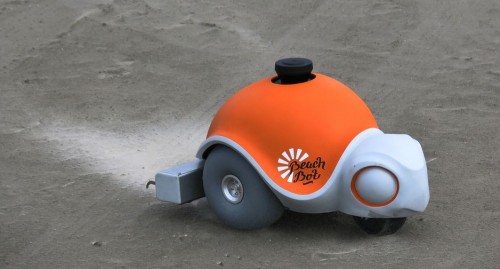 The BeachBot uses reflective poles it pings with laser scanners to mark the border of the drawing field and smart software is used to generate the instructions for sand art from the images users provide.
I could see how the BeachBot might be put to use by any of Disney's resorts with access to a beach. Imagine waking up every day to a new set of designs. That would be pretty cool. But anyone who lives near or regularly visits the beach might want to own one of these themselves to make their own designs. I would have loved this as a kid. Certainly beats dragging around a stick on your own.
BeachBot is a creation of a student team from Focus Projects at ETH Zurich in Switzerland and involved close collaboration with Disney Research.