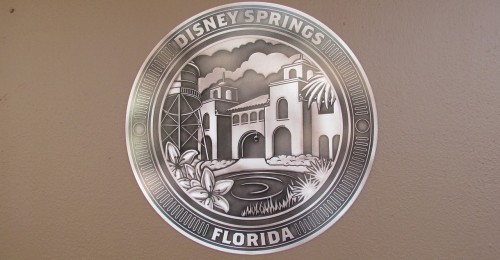 Today we have a big update from the last part of December focusing on Downtown Disney. It is now just a few months away from opening the first locations in "The Landing" and being renamed as Disney Springs. As you can see above, Disney Springs now appears to have an official seal. It's on the boards that cover a few of the windows in "The Landing." Elsewhere in The Landing, a lot of work has been done on The Boathouse restaurant.
Construction of the second garage is now underway. That also means all of the surface parking from on the Marketplace side is now closed. So after 5pm or on weekends park across the street at Team Disney. The surface lot behind Cirque Du Soliel is also open, but the new Parking Garage appears to be the best bet for easy and close parking to the Westside.
More than 20 photos from the most recent update below:
Looks like some of the locations in Disney Spring's The Landing will shortly be ready to open, but there's still a way to go on the new restaurant locations. I don't expect The Hanger or The Boathouse to open in January as was rumored.
Previously: Food Truck park opens, November construction update.