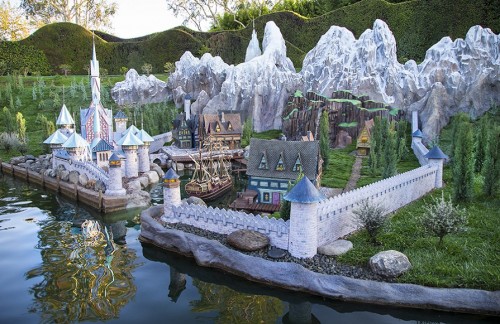 Disneyland's Storybook Land Canal Boats is one of the park's original attractions. It has managed to stay relevant to new audiences over the years by periodically updating the stories told within to include references new audiences will be familiar with.
There is nothing more relevant to young Disney fans these days than the hit animated feature Frozen. So that explains why the Kingdom of Arendelle, Queen Elsa's Ice Castle, and Oaken's Trading Post have been added to the attraction.
Arendelle replaced the windmill scene that was based off the Academy Award winning "The Old Mill" one of Walt Disney's 1937 animated Silly Symphony shorts and the first to us the multiplane camera. So it's sad to see a bit of history going like that. A Disney spokesperson has said that Imagineers are currently looking for opportunities to bring back the "The Old Mill" scene in another capacity. That's good news.
(photos courtesy Disneyland, Paul Hiffmeyer)