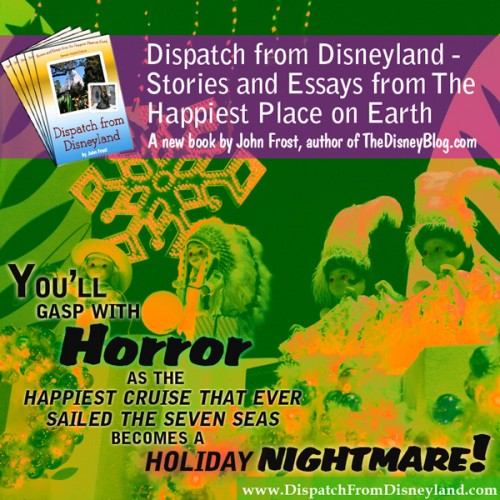 Don't let your holiday gift giving become a nightmare. Give the gift of sweet nostalgia and magical memories to every Disney fan on your list. "Dispatch from Disneyland: Stories and Essays from the Happiest Place on Earth" contains over 25 beautiful stories and essays about Walt's original park, three of which are holiday themed including one humorous cautionary tale of horror about being stuck on "It's a Small World Holiday." If that doesn't put you in the holiday spirit, I don't know what will.
"Dispatch From Disneyland reads like a love letter to "The Happiest Place on Earth." It is often personal, sometimes funny, and always honest. John Frost makes the reader feel like we are right there with him, taking in the smells, sights, and thrills of Disney magic. It is an E ticket read for Disney fans of all ages, and now I really want a churro."

— Whit Honea, Author of The Parents' Phrase Book and Publisher of Honea Express.
If you have a Disney fan in your life, or just want a copy for yourself, make today the day you add a copy of "Dispatch from Disneyland" to your collection. Order a print or kindle edition off Amazon or download a special edition ebook PDF version for a desktop, ipad, iphone, android tablet, laptop or other device capable of reading PDFs. Both the ebook and kindle editions are just $5 right now, you won't find a better value than that this holiday season.