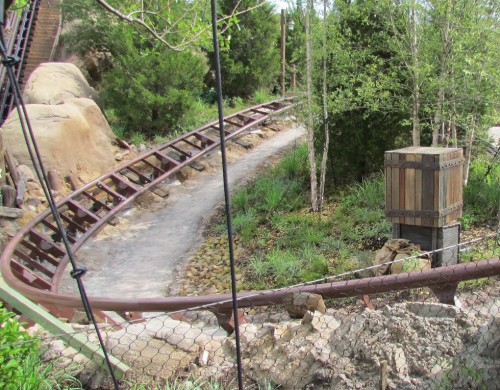 Just before the Seven Dwarfs Mine Train officially opened to the public, these odd boxes were added to the track. They looked like on-ride video or photo cameras, but since there is no 'gift store' attached to the exit of the ride, there was no way buy those photos even if you wanted too. But thanks to Disney's new MyMagic+ system, you can not get your hands on those magical memories with just a little planning ahead.
When a guest with a MagicBand and a linked Memory Maker entitlement rides the attraction, their photo and video will be automatically associated to their My Disney Experience account. Said guest will also be able to view, download and share the photo and video of their family & friends connections and managed guests who also experienced Seven Dwarfs Mine Train while wearing a MagicBand. This means only one person in your family really needs the Memory Maker add-on. So that's nice.
The cameras are actually set up in two locations along the ride to make sure they have a decent video and/or picture of you. Presumably, although Disney hasn't said anything official, there is some Disney 'magic' going on behind the scenes here. First, there would have to be a device that scans all the passengers in a car and tracks their magic bands. This is a feature of the XBR "long range" chip inside each magic band (which is in addition to the RFID chip which only works at close range). Secondly, there has to be some facial recognition going on behind the scenes here to identify which row and seat you're in. Thirdly, there is likely a human matching up images taken of that Magic Band holder on other Memory Maker devices to add a final verification that the person on the roller coaster is the right person as well as to eliminate any obscene gestures or other unwanted images that could slip through. Or, of course, I could be wrong and it could be really cool hardware and software working without humans.
The next attraction rumored to get this upgrade is Haunted Mansion and I've heard that It's A Small World also had similar technology added to it recently.
To me this is the real magic of MyMagic+. Imagine if a meet and greet Mickey Mouse knew you by name because your Magic Band told him it as you walked in the room, or a restaurant knows your food allergies before the waiter even arrives to take your order, or a Disney bus knows you've boarded the wrong bus for your hotel at the end of the night and alerts the driver. There's a fantastic future out there and this is just the start of it.