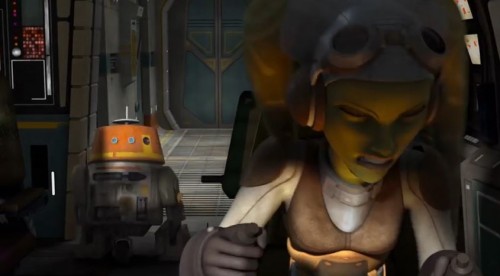 Star Wars and Disney have released another extended preview of Star Wars Rebels. A new short called "The Machine in the Ghost," finds the rebels' Ghost starship is under attack by a wave of TIE fighters. Hera pilots the craft, while Kanan tries to blast the Imperials from the Ghost's gunner. While they do evade and shoot down several TIEs, it's up to astromech droid Chopper to finish the job – even if he's reluctant to do so.
I can tell already that Chopper is going to be a fan favorite. A little trashcan full of personality
The amazing thing about this clip is it works with the sound off too. I like that, it's in keeping with George Lucas' vision that you should be able to watch an Star Wars movie without the sound and still know what's going on.
Scheduled to premiere in October 2014 as a one-hour special telecast on Disney Channel, Star Wars Rebels will be followed by a series on Disney XD channels around the world.