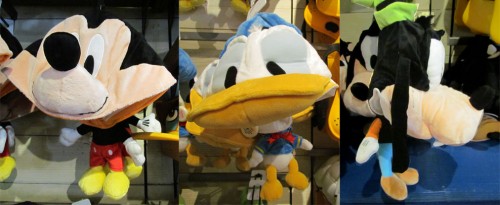 Three new (to me at least) hats were on the shelf at Disney's Animal Kingdom during my visit last weekend. They are part plush and part hat and all kinda-weird looking.
Each hat has a characters face for the hat, then a small version of the character's body dangles off the back of the hat. It looks really funny, like you skinned the character and are walking around with their body on your head. Mickey, Goody, and Donald are represented.
My son was kind enough to model them in the video below:
Now that you've watched the video, vote in the comments which hat you like the best!