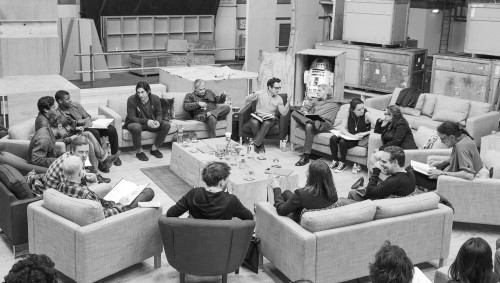 The cast of Star Wars: Episode VII gathered with Director J.J. Abrams in London to do the first read through of the script. I am happy to see many of the original stars will be returning including Harrison Ford, Carrie Fisher, Mark Hamill, Anthony Daniels, Peter Mayhew, and Kenny Baker. I wonder if Hamill and Daniels arranged to dress alike. We can ask Hamill when he comes out to Star Wars Weekends at Disney's Hollywood Studios.
Other actors announced include John Boyega (Attack the Block) and Daisy Ridley (Blue Season) who are two young actors about to get a big break. Also on the list are Adam Driver (Inside Llewyn Davis and Lincoln), Oscar Isaac (Inside Llewyn Davis), Andy Serkis (Gollum in Lord of the Rings, King Kong in King Kong, Caesar in Rise of the Planet of the Apes, aka King of the Motion Capture Performance), Domhnall Gleeson (Harry Potter and the Deathly Hallows and About Time), and Max von Sydow (Minority Report, Flash Gordon, Dune).
"We are so excited to finally share the cast of Star Wars: Episode VII. It is both thrilling and surreal to watch the beloved original cast and these brilliant new performers come together to bring this world to life, once again," said Director J.J. Abrams. "We start shooting in a couple of weeks, and everyone is doing their best to make the fans proud."
Star Wars: Episode VII is being directed by J.J. Abrams from a screenplay by Lawrence Kasdan and Abrams. Kathleen Kennedy, J.J. Abrams, and Bryan Burk are producing, and John Williams returns as the composer. Sounds like it's in good hands.
Some pre-production is already underway and principal photography begins in May.
Update: Caption info for the photo has just been released.
Pinewood Studios, UK – Writer/Director/Producer J.J. Abrams (top center right) at the cast read-through of Star Wars: Episode VII at Pinewood Studios with (clockwise from right) Harrison Ford, Daisy Ridley, Carrie Fisher, Peter Mayhew, Producer Bryan Burk, Lucasfilm President and Producer Kathleen Kennedy, Domhnall Gleeson, Anthony Daniels, Mark Hamill, Andy Serkis, Oscar Isaac, John Boyega, Adam Driver and Writer Lawrence Kasdan. Photographer: David James. © Lucasfilm Ltd. & TM. All Rights Reserved
What are your expectations for Star Wars Episode VII based on this cast lineup?