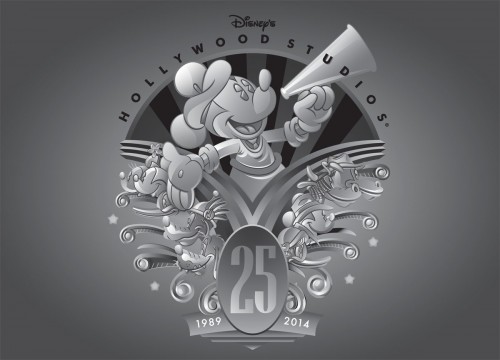 May 1 is the silver anniversary of Disney's Hollywood Studios. With 25 years of history and decades of Hollywood icons to celebrate, you might expect a year long bash at the third gate to open at Walt Disney World. However, that's not the way Disney does things anymore. Still we will be getting a nice line up of events on the day itself.
Direct from Disney, here's what to expect if you're in the park on May 1:
At 10 a.m., Mickey Mouse and Minnie Mouse will take the stage with Disney's Hollywood Studios Vice President Dan Cockerell to start the celebration day, honoring some of the 25-year cast members during a short re-dedication ceremony.
A special motorcade — "Stars of the Studios" — will make its way down Hollywood Blvd. beginning at 7 p.m. and feature many of the famous characters showcased throughout the park. Mickey and Minnie will be joined by television and film stars including Captain Jack Sparrow, Darth Vader, Doc McStuffins, Wreck-It Ralph, Venellope, Sofia the First and more.
Following the motorcade, the area in front of the park's Sorcerer Hat Stage will become a dance party before a fireworks show ends the day in grand fashion at 9:30 p.m. The pyrotechnics show, which will be high in the sky above the Sorcerer Mickey Hat, will pay tribute to 25 years of show business stories that have been told throughout the park.
And, of course, there will be commemorative merchandise to buy.
As always, everything is subject to change.