Morocco Pavilion at EPCOT will soon open its third dining option. Spice Road Table will offer a variety of regional Moroccan flavored small plates and specialty drinks along with an scenic view of the World Showcase lagoon in front of the Morocco pavilion. The newly opened building will also hold some of the old favorites including Art of Henna and a bazaar with great merchandise
Designed for "IllumiNations: Reflections of Earth" viewing or relaxing with a selection of Moroccan flavors and cocktails along World Showcase Lagoon, Spice Road Table is a feast for the eyes as well as the taste buds, say the restaurant's designers. There's an array of small plates: zesty harissa chicken drumettes; a Mediterranean omelet with sausage, potatoes and caramelized onion; mussels with preserved lemons and tomato sauce baked in an earthenware tagine pot; Moroccan merguez sausage with a fresh tomato salad; garlicky jumbo shrimp in a spicy chile pepper sauce.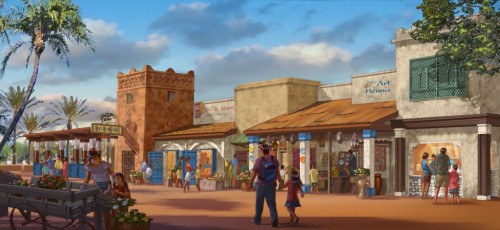 Inspired by the outdoor cafes along the Mediterranean, the whitewashed façade of Spice Road Table is accented in icy shades of blue from the famous "Blue City" of Chefchaouen in Morocco's Rif Mountains. A collection of shops in the colorful style of a Moroccan "souk," or marketplace, stretches along the front of the building – a henna tattoo artist will create temporary body art from traditional and modern designs.
With 120 outdoor terrace seats, the inside will seat 60 with cozy booths, Moroccan light fixtures, tilework, tapestries and art representing Morocco's indigenous Berber tribes. Spice Road Table is the third eatery in the Morocco pavilion, joining The Tangierine Café, which features a variety of Moroccan sandwiches and specialty pastries, and Restaurant Marrakesh, where savory dishes, Moroccan music and belly dancers showcase the authentic charm of the North African country.
Alas, Silk Road does not best view of Illuminations, there are islands with trees between you and center stage, but rumor is they will have special ticketed setting for the nighttime World Showcase fireworks show.
No official opening date, however early 2014 is the word.
Sample food photos are in gallery below:

Is Silk Road Table something you think you'd try on your next visit?