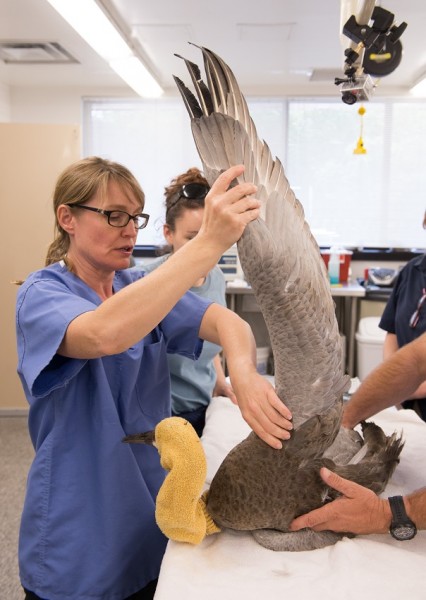 A few years ago SeaWorld Parks and Entertainment gained its freedom from the adult-beverage company formerly owned by the Busch family and started off on its path to independent corporatehood. It had a choice to make about a few issues that were central to the parks brand. The beer factory past was easily disposed with, but the environmental stewardship was always integral to SeaWorld's existence. AB had been using it largely as corporate goodwill, not that there's anything wrong with that; but the new company would have to make conservation central to its existence if it wanted to claim a unique brand that had a chance of success in an already crowded theme park and entertainment industry.
For the most part, SeaWorld has done a good job promoting its conservation work, but I think it could do better. For instance,  did you know that right now, among the dozens of animals it has in special care is a Florida sandhill crane. You see these everywhere all over the area, but some idiot decided to use one for target practice. So SeaWorld sent out its rescue crew to Pine Lakes, FL, and then transported to the park for further care and rehabilitation.
The bird was spotted in the woods with an arrow lodged through its torso by a concerned citizen. Upon arrival at SeaWorld Orlando, animal care experts took the bird into surgery for its injuries. The bird is now in stable condition and will receive regular tube feedings, and continue to be monitored closely. The Florida sandhill crane is an endangered species and protected by state law.
So far in 2013, SeaWorld has rescued nearly 200 birds. 200 birds and it's only June 3rd! That's amazing. Remember part of your theme park admission ticket goes toward that everytime you stop in. And yet, nothing of the sort is mentioned when you buy tickets or enter the park.
In collaboration with the government and other members of accredited stranding networks, SeaWorld Parks & Entertainment operates one of the world's most respected programs to rescue ill and injured animals, with the goal to rehabilitate and return them to the wild. SeaWorld animal experts have helped more than 22,000 animals in need – ill, injured, orphaned and abandoned – for more than 40 years. Just one of the many reasons I'm happy to promote SeaWorld's conservation efforts whenever I get the chance.
Finally, do your part. If you see an injured bird or marine animal, you can help by contacting the FWC hotline at 1(888) 404-3922 or by dialing *FWC on a cellular device.