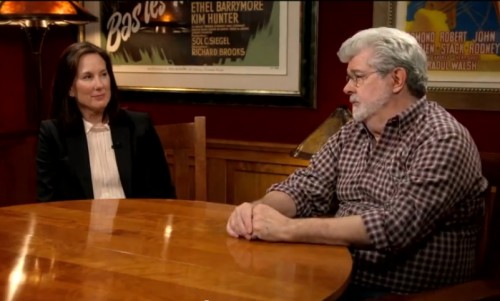 All five sections of Kathleen Kennedy's discussion with George Lucas over the future of Lucasfilm and the "Star Wars" franchise now that it's been acquired by the Walt Disney Company are now available for viewing. I've embedded the playlist with all five here.
We know that Disney plans to make at least Episodes 7, 8, & 9 of the movie trilogy and that Michael Arndt is writing the script for at least the first one. (I also heard that Brenda Chapman (Story and Co-Director for Pixar's Brave) is involved with the new series.) How close they stay to Lucas' original plot outline from back in the 1970s would be interesting to see. However the good news is that we will get to return to the cinematic world of Star Wars every two to three years.
Since it's the start of a new year and a new era for Lucasfilm and Star Wars, let's allow ourselves to dream for a little bit. What would be the perfect scenario for Disney's acquisition of Lucasfilm? Would it involve a TV series? Theme park? What would you like to see?