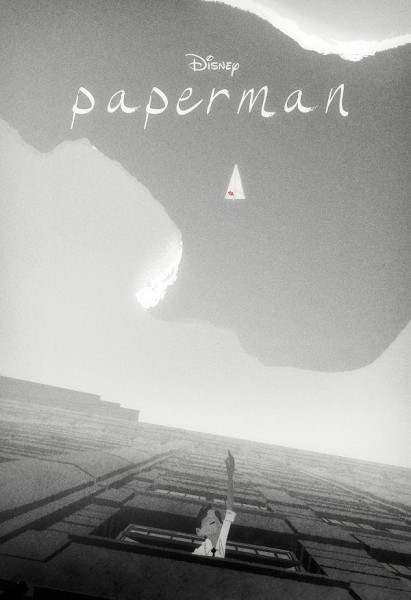 If you were one of the many people to see Disney's latest feature Wreck-It Ralph over the weekend then you were also lucky enough to see the animated short, Paperman, that preceded it. Chances are you were blown away like so many paper airplanes.
The overwhelming amazement derived from Paperman is equal parts wonderful story and beautiful animation, the proverbial chocolate and peanut butter of memorable movie-making. Paperman resembles its popular contemporary Pixar counterparts in both heart and scope. It also resembles some of the better Pixar shorts in that it doesn't use any spoken language, relying instead on compelling art against a well-timed soundtrack and the captivating gift of storytelling. It's a good gift.
In Paperman Disney does something totally new by using a program called Meander (there is probably something clever to say there about a winding path, but it escapes me at the moment) which combines hand-drawn 2D and computer-generated 3D animations, respectively, in the creation of the film's characters.
It went like this, an artist would create a hand-drawn scene that was then rendered into CG for the purpose of shading, only to be flattened and merged into an image that 2D artists enhanced with strong lines and paint. The dance between the two methods spun, dipped, and leaped into a seamless display of well-rounded hand-drawn characters across a stage of depth and scope that only CG could create. It was a long path, taking 14 months to complete, and there was much in the way of winding—there's your meandering. I knew it was there somewhere.
I attended a screening of Wreck-It Ralph and Paperman in September, and following the films I was able to speak with Paperman producer Kristina Reed, the Head of Production at Walt Disney Animation, who explained how Director John Kahrs had been inspired by his own experiences in New York City when creating the short.
"This idea came about early on in his career. He was reverse commuting. He lived in New York City and he was working at Blue Sky, which is out in the suburbs of New York, and every day he'd be traveling through Grand Central Station as a single guy in his 20s, and there would be throngs of people moving through the train stations. And he would be thinking to himself, 'why am I not having a more happy life? I'm a single guy in New York City. I should be on top of the world. And yet I feel really rather lonely.' And every once in a while, he'd make a connection with somebody, eye contact in the station and think 'is that the girl of my dreams?' And then she'd be gone. This short came about from those times.
"Where I got involved was just speaking about the methodology of it. That's what really drew me into the picture, to be totally honest."
According to Reed, while Walt Disney Animation was creating the hand-drawn The Princess and the Frog and the computer-animated Tangled the executives were having a lot of discussion as to whether or not they were handling things properly: "We sort of had this line going down in our crew, and we had separated our hand-drawn talent from our CG talent, and just, was that the right way to be thinking of things? It was like being in two different businesses and neither business was quite as smooth as we wanted it to be. I mean we're having to come up double the amount of content to feed both pipelines, etc.
"There was this notion of we're the only studio in the world that has this breadth of talent; is there something we can do by actually matching them together? Is there some new place we can go visually that no studio has gone before?"
Enter John Kahrs and Paperman.
The film is as simple and clever as it is touching and sweet. It is the classic boy meets girl, boy loses girl, then boy sees girl across a crowded street and most-likely loses his job in an attempt to meet girl again story. And lots and lots of paper airplanes.
Paperman showcases more humor and romance in seven silent, animated minutes than most films do in two hours of witty banter and heated passion.
Paperman isn't just a great short, it's a great movie, and it is a whirlwind of high-flying fun. It is playing in theaters now.
 I attended a press/blogger junket for Wreck-It Ralph/Paperman as a guest of Disney. All opinions are my own.
This post has been edited to reflect corrections made by our always astute readers in regard to the timeline of Disney shorts. Thank you!