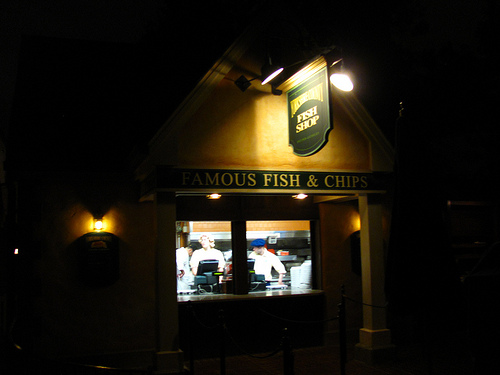 I'm going back to some of my favorite places to dine at Walt Disney World and reviewing them as if it was my first time there. Obviously, some of my previous experiences will impact my report, but for the most part I'm going to view this as an exercise to see it as a Disney guest would for the first time.
Up first is the home to one of the classic food dishes at any restaurant or theme park, Fish & Chips. The Yorkshire County Fish Shop is tucked away in the UK Pavilion inside EPCOT. Look for a small hut like structure located adjacent to the Rose & Crown Pub and Restaurant that serves Fish & Chips as they do on the British Isles. We approached right after a rain, so the line was very short, but I have seen long waits at meal times here.
Service was prompt and pleasant and our food was dished up from what looked like recently cooked selections. Our fish was served in a paper container, with a waxy paper designed to look like the traditional, but less sanitary, newspaper wrapping for Fish and Chips.
The chips are cut bigger than typical American fries. The portion of fries was sufficient, although it bordered on too thrifty, and they were served quite hot. Hot enough that we had to wait a few minutes before breaking into them. I suppose this is good if you have to search for a seat. The salt level was just right in our estimation, neither too salty nor too little, so that you could taste the potato on the inside of the crisp shell.
The fish, were also served hot. I like how the batter preparation cooked up nice and fluffy around the meat. The fish itself was flaky and tasty, not overdone at all like some Fish & Chips can be. As you can see these are not your traditional fish sticks either, but more like small filets.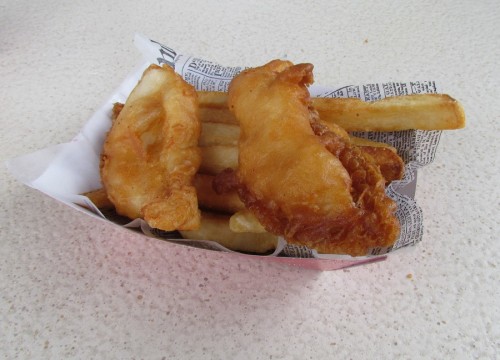 We asked for a couple ice waters to drink, but you can choose from the typical line up of coca-cola products or beer. The selections this day were a Bass Ale draft or Harp Lager Draft. The price for either? $7.50, which is just a few cents shy of what a full six pack would cost you at the Publix market located just 2 miles off property. Seems kinda extreme, but if you had to choose, I'd pick the slightly heartier ale to go with the fish & chips.
Flatware & sauces are located in stands right next to either ordering window. If you'll be picking those up on the way to the table, I suggest asking for a tray from the window. Otherwise it becomes a tricky balancing act getting to your seat with a drink and paper tray plus the add-ons.
Although we did not order them, you can pick up packaged shortbread cookies at this location. That's a good tip to remember since nearby stores in the UK appear to have stopped carrying them recently.
The price for 2 pieces of fish and a decent portion of fries? $8.19 plus tax. Not outrageous for theme park food, particularly at Disney, but I was expecting 3 pieces of fish at that price as you get at other locations in Walt Disney World for a similarly priced dish.
Once you've ordered your food, there remains one more challenge, where to sit. The dining area had only a few tables and all but one were occupied after we ordered our food. There was a sign directing guests to another seating area on the other side of the adjacent Rose & Crown restaurant. However, that area does get busy when the bar is open, so seating there might not be available either. Replacing the larger tables with smaller ones and adding new weather protection in this area would increase capacity quite a bit.
If they could do something about the ducks that stalk guests while they eat and leave little bits of unpleasantness on the ground everywhere, that would be nice too.
Do you agre that ordering Fish & Chips at the UK is one of those things you just have to do while on vacation in the world?If you've tried them recently, please share your review below.
Photo credit: Loren Javier for night time store facade.