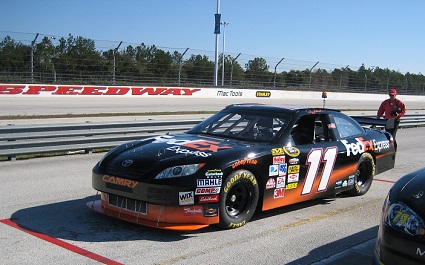 Located right next to the Magic Kingdom at the Walt Disney World Speedway, the Richard Petty Driving Experience (RPDE), has been providing thrill of a lifetime experiences to adult race and exotic car fans for over a decade. A new program will allow RPDE to offer "Junior Ride-Alongs" at its location in Orlando, FL.
RPDE's "Junior Ride-Alongs" program will provide children, who are at least 48 inches in height, the opportunity to experience real-life racing excitement while they ride shotgun with a professional driving instructor for three thrilling laps in a specially equipped two-seat NASCAR race car.
"Junior Ride-Alongs" are possible as a result of RPDE's partnership with The Joie of Seating, a premier fabricator of custom-fitted aluminum racing seats owned and operated by two-time NASCAR Nationwide series champion Randy LaJoie. The North Carolina-based company built custom racing seats for this program, specifically designed to ensure the safety and security of smaller bodies. These full containment racing seats feature built-in shoulder and head protection and a five-point safety harness that is the same design used by NASCAR drivers.
"For 10 years we've specialized in designing custom racing seats that provide the safest in-car experience," says LaJoie, "Our extensive experience in the industry makes us confident your child will enjoy a safe and fun ride-along with RPDE."
"We're thrilled to be able to make RPDE even more family friendly and can't wait to see the ear-to-ear smiles on these kid's faces after experiencing the excitement of NASCAR first-hand." says Bill Scott, General Manager of Richard Petty Driving Experience at Walt Disney World Speedway.
Now with "Junior Ride-Alongs" available just in time for summer, NASCAR racing can become a family affair at Disney.
"Junior Ride-Alongs" with Richard Petty Driving Experience at Walt Disney World® Speedway are $59. No reservations are required.