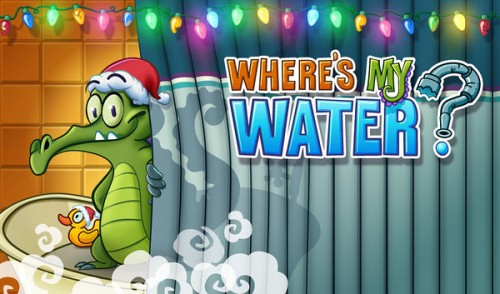 Disney Mobile has released the "Where's My Water? Free" edition and it's now available on the App Store, Android Market and Amazon Appstore for Android. Going 'Freemium' is a popular model for mobile apps, let's see if it works wonders for Disney. They're obviously putting some firepower behind it. Take, for instance, this trailer:
"Where's My Water? Free" is available for download on the iPhone, iPod touch and iPad at on the iTunes App store.
Download the app on Android Market.
"Where's My Water? Free" features 25 exclusive levels, in addition to another two hidden levels. Disney Mobile is also kicking off a special promotion, "The 10 Days of Swampy," in which for 10 days, beginning today, players can unlock a new level of the "Where's My Water? Free" app each day. Players who "Tri-Duck" all of the new levels are immediately rewarded with "Swampy's Picks," five of the best levels from the paid version of the game. In addition, players will be surprised with free wallpapers on January 1st, regardless of having completed the new levels.
"Where's My Water? Free" stars Swampy the Alligator, Disney's first original character for mobile in more than 25 puzzles where players guide water through subterranean layers of earth, rock, and broken pipes, and into Swampy's bathtub. "Where's My Water? Free" is sponsored by Zappos.com, whose brand has been integrated into the game through a series of in-game collectibles that unlock an additional bonus level.
Where's My Water? 20 New Levels
The premium version, available for both iOS and Android, was also updated today with 20 new levels. In "Stretched Thin," the newest chapter in the story of Swampy the Alligator, water balloons have made their way to Swampy's neighborhood, and players must clear a path and use their expert timing skills to tap and pop the balloons to release water at the right moment. "Stretched Thin" features 20 new levels of challenging gameplay, in addition to new collectibles.
Since launching on the App Store on September 22, "Where's My Water?" has become a favorite amongst critics and gamers alike, reaching the No. 1 spot on the App Store in 30 different countries and maintaining a 5-star App Store rating.