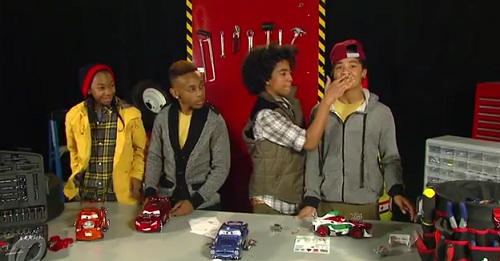 Join Prodigy, Ray Ray, Princeton and Roc Royal of Mindless Behavior, the teen boy band whose hit singles include "My Girl" and "Mrs. Right" as they "rock and roll" with their favorite Disney•Pixar Cars 2 vehicles from Ridemakerz. Infusing a passion for authentic car culture, fun, and self-expression with the Disney•Pixar's Cars 2 franchise, Ridemakerz now allows kids to build their favorite Cars 2 characters and then make them their own through individual customization.
From engines and spoilers to decals and wheels, these fully customizable toy cars are sure to race into the hearts of car and toy enthusiasts everywhere. Part two of a three part series, this video showcases each member of the band creating a customized version of their favorite Cars 2 character and, through exclusive interviews, highlights Mindless Behavior's loyal friendship as the driving force of their budding success.
You can now find these Cars 2 customizable cars and parts at Toys "R" Us as part of the "Snap N Go" line which offers kids everything they need to "trick-out" their favorite characters from the Cars 2 movie at home.