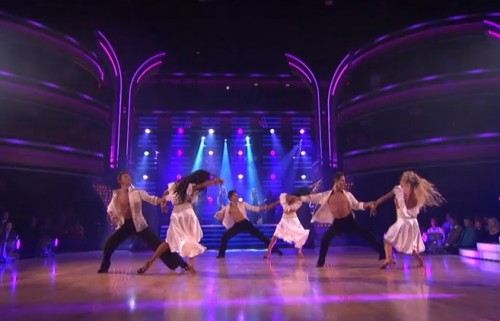 Get your parachute pants on, you guys! It's '80s week at Dancing With the Stars! The Bangles (who still look great) opened the show with a performance of "Eternal Flame" and "Walk Like an Egyptian." I'm pretty sure I performed the same two songs on my parents' coffee table.
Hope and Maks' tango exemplified their love hate relationship as they rocked to Bon Jovi's "Livin' on a Prayer" (yay New Jersey!). Len noted that Hope lacked body strength, but liked the way she attacked the dance. Carrie Ann agreed her lines were awkward, but still sees potential in Hope. Triple 8s gave the pair a total score of 24.
Carson and Anna jived to "Wake Me Up Before You Go Go" by Wham! After rocking leg warmers in rehearsal, they sported cheerleader uniforms, complete with pompom wristbands, on the dance floor. Bruno proclaimed the dance a crowning achievement in madness. Carrie Ann saw little technique, which she doesn't think is okay in week 5. Len wasn't sure the dance was good enough for Carson to make it back next week. As usual, Carson's score of 19 (6, 6, 7) wasn't great, but he remains a huge crowd-pleaser.
Next up, Nancy and Tristan performed the rumba to "True" by Spandau Ballet. The couple worked hard to get sexiness into the routine (sadly, a 1980s prom dress and hair style don't scream sexy). Carrie Ann wanted to feel more passion from them, Len thought the dance was simple yet effective, and Bruno declared it one of her best performances. The judges awarded them 7, 7, 8 for a total of 22, Nancy's highest of the competition. Nancy was ecstatic to get an 8.
Holy hips, J.R.! After the Bangles returned to perform "Manic Monday," J.R. and Karina sambaed to Gloria Estefan's "Conga." The high energy routine delighted the crowd. J.R. got in touch with his Latin roots to perform a dance that can be difficult for men to master. Len was surprised and impressed, Bruno yelled some effusive comments, and Carrie Ann wanted more. The judges' scores of 9, 9, 10 (for a total of 28) gave the couple the highest score, and the only 10, of the evening.
Rob and Cheryl danced the rumba to "Hello," by Lionel Richie. The pair worked hard to develop a sensual connection, and it paid off. Bruno was able to see Rob in the role of a heartthrob, Carrie Ann thought his dance was strong and sexy, and Len was pleased that he took command. The judges awarded them 9, 8, 8 for a total of 25, which is Rob's highest score of the competition.
Once again, the whole ballroom rooted for Chaz as he and Lacey performed the samba to Kool and the Gang's "Get Down On It." This dance was a challenge to Chaz's shy nature, but he moved with more energy than we've seen all season. Carrie Ann remarked that it's the most dancing he's done so far, Len was impressed that Chaz really gave it a go, and Bruno thought he did very well, even if J.R.'s samba was a tough act to follow. Triple 7s gave the pair a total score of 21.
Next, David and Kym tangoed to the classic '80s song "Tainted Love" by Soft Cell. David put his all into the rehearsals, which showed in his performance. Len loved the great '80s feel of the dance, and Bruno thought he looked in charge on the ballroom floor. Carrie Ann wants him to work on his musicality (which, the interwebz tells me, means his ability to connect with the music), but sees him as a real contender. The judges' scores of 8, 9, 8 gave David a total of 25, his highest of the competition.
"Easy Lover" by Phil Collins and Phillip Bailey played as Ricki and Derek performed a foxtrot, complete with awesomely bad hair and awesomely bad Roger Rabbit dance moves. Bruno didn't think the routine gelled. Carrie Ann agreed, but was impressed with the way they always work as a team. Len didn't think the dance was Ricki's best, or her worst. Triple 8s gave the couple a total of 24.
After last week's shocking elimination of Tony and Chynna (who went on to perform a great tango on The View), I can't even begin to predict who will go home after tonight's elimination show. We'll have to watch to find out…I'll be wearing a brightly colored, sequined, shoulder-padded dress for the occasion.