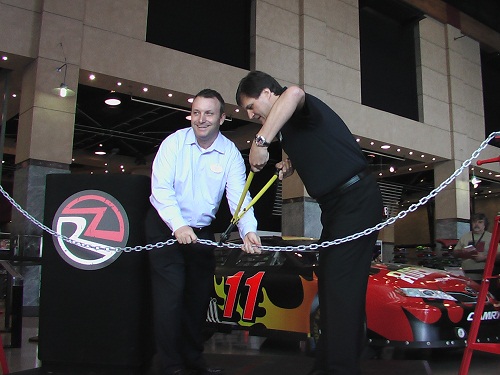 RIDEMAKERZ announced today its Downtown Disney shop won worldwide "Pop-Up Store of the Year." They also announced that the current location would remain open through April of 2011. That's an odd choice of words considering the Disneyland Resort in Anaheim location recently expanded to a permanent dedicated location. So, inquiring minds want to know, will the Orlando shop be moving to a new location soon? Where would that be? (My guess the Basin location at the Marketplace.)
The answer to that raises an even bigger question… what will happen to the former Virgin Records Mega Store location. There have been persistent rumors that its neighbor DisneyQuest is on the chopping block. DQ has developed something of an audience lately, so the need to close it may have diminished. The problem is what to do with that big space that VRMS used to occupy. RIDEMAKERZ only occupies a portion of the ground floor, the whole space really deserves to be utilized. I would like to personally lobby for either a two theater IMAX location or a stage theatre capable of hosting Broadway productions. One could provide a permanent location for the latest 3D IMAX film from Disney and the other a perfect place to workshop future Broadway shows. Two things Disney needs. I'm just saying.
This is the second year in a row that RIDEMAKERZ has claimed the award presented by Chain Store Age magazine. The award recognizes RIDEMAKERZ for its creativity in transforming a 16,000 plus square foot retail venue into an auto-garage where kids and kids at heart can customize their own 1:18 scale toy vehicles, or RIDEZ.
"It's an incredible acknowledgment for RIDEMAKERZ to win Pop-Up Store of the Year two years in a row, especially given the momentum and creativity in this rapidly expanding category," said Larry Andreini, ZEO (CEO), RIDEMAKERZ. "Disney offered us an incredible space, and we were able to deliver a one-of-a-kind RIDEMAKERZ experience for the ages."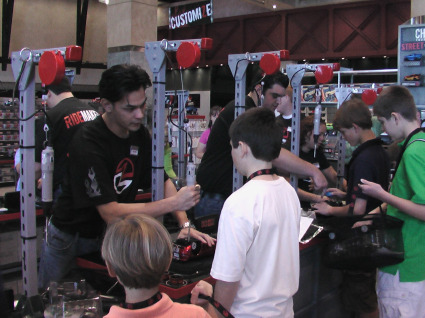 Much like its fully-customizable RIDEZ, the RIDEMAKERZ pop-up at Downtown Disney – Lake Buena Vista was completely tricked out. The shop immersed customers in a real world auto salon with show-quality cars, including rides from the personal collection of legendary car customizer Chip Foose. Additionally, a specially designed radio-control track lets customers play with their creations on-site.
The RIDEMAKERZ pop-up at Downtown Disney – Lake Buena Vista will remain open through April 30, 2011.
---
Purchase an
book and save on your next Orlando or Anaheim vacation.