Tonight was the big event to kick off the "Let The Memories Begin" campaign. Disney Parks made some big news with some confirmation of Fantasyland rumors I talked about earlier and launch dates for Star Tours. I'm guessing the timeline on those earlier rumors have changed slightly, but my sources were fairly close to the final product.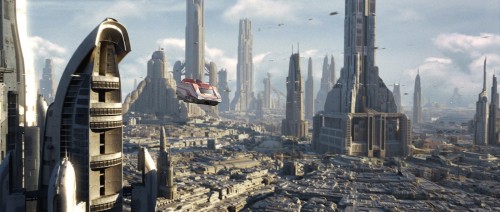 Let's get the DHS news out of the way first.  Star Tours – The Adventures Continue will be open by May 20th, 2011 just in time for this years Star Wars Weekends events. The attraction will add 3D to the popular flight simulator as well as multiple destinations and other random effects. Can't wait to see it.
This morning Disney World announced some changes to the Fantasyland Expansion via the Disney Parks blog, they also went over a few details tonight at the media event. Above you can see the new concept art released. The Belle and Ariel areas stay essentially the same, and the castle wall addition also remains. But after that a lot is different.
Gone are the smaller princess castles that would have housed meet and greets with Aurora, Cinderella and her friends. Those meet and greet opportunities remain, but now they'll be housed in the space where Snow White Scary Adventures currently occupies in what they're calling the Princess Fairytale Hall. I hope that's the working title.

The Seven Dwarfs Mine Train roller coaster attraction will become the new Snow White attraction. It will feature a long ride through the mines and the dwarfs' cottage with audio-animatronic figures. The coaster cars will feature new technology that allows them to have some side to side swaying motion. Having two kiddie-coasters in Fantasyland seems like a lot to me.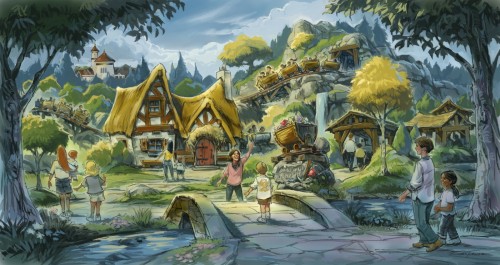 Also announced for the first time was a new mini-land Storybook Circus. It will be home to the new double-ring Dumbo attraction and the Great Goofini re-theming of the Barnstormer attraction. The rest of the Storybook Circus area appears to consist of a few water playgrounds and three big circus tents. My guess is that one tent is a show, one is a store and one is a restaurant/bathrooms. However nothing about the tents was announced on the blog or at tonight's event.

There also appears to be some new designs for the Fantasyland Train Station and a new midway tent themed entrance to the mini-land. I like the idea of introducing some 'storybook' rides back into Fantasyland. It will be interesting to see how the circus theme bares out.
Unfortunately, I only have time for a high-level overview tonight. Each of the photos above is available larger if you click on it. Please let me know if I'm missing anything. Also I'm curious to know what your thoughts our now that most of the rumors have come true.