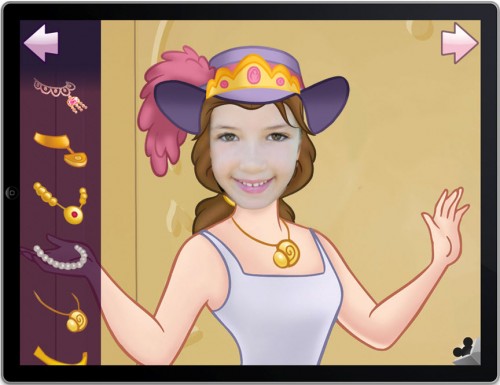 If you're one of those people who isn't afraid to trust their iPad to their children, then Disney Publishing has a new app for you. They've just launched the original Princess Dress-Up: My Sticker Book App on the App Store.
Children will enter the magical world of Disney Princesses and share in special princess moments. Young girls will have a ball dressing up their favorite Disney Princesses in lovely gowns, regal hats, sparkly tiaras and so much more in this delightful sticker book app. The enchantment continues as children can take their own photo and become part of the story!
Princess Dress-Up: My Sticker Book App Highlights:
Delightful story illustrations, professional narration, and enchanting Disney Princesses music.
Sticker dress-up with beloved princesses, including Cinderella, Ariel, Beauty, Snow White, Jasmine and Belle.
Children can take a photo or upload one to see themselves become part of the story.
Children can save and share their sticker creations with family and friends.
The Visual Index allows children to jump to their favorite princess.
The Princess Dress-Up: My Sticker Book App is available for $1.99 from the App Store on the iPad, iPhone and iPod touch. Purchase now via:
Here's a quick video demonstrating some of the play:
I've also heard good things about the Phineas and Ferb Arcade on iPad by Disney. If apps like this area success I expect to see much more from Disney on the iPad soon.