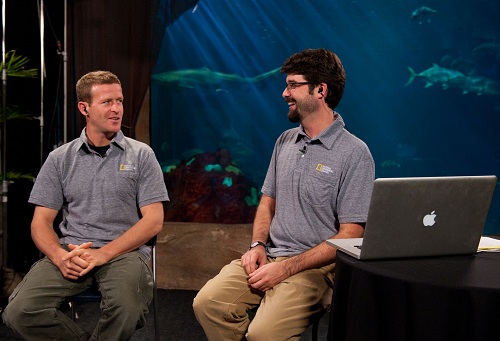 Last week SeaWorld Orlando became a virtual classroom as more than 157,000 students from more than 3,500 schools from across the nation, including more than 100 in Florida, interacted with a National Geographic filmmaker and a SeaWorld shark expert. The live webcast and Q-and-A session took place in front of a backdrop of dozens of sharks at the park's Shark Encounter attraction.
The "virtual assembly" was an opportunity for students to expand their knowledge of wildlife, science and filmmaking with famed National Geographic filmmaker Andy Casagrande. His passion for wildlife has taken him around the world to capture the lives and movements of some of the planet's most fascinating creatures including sharks.
The SeaWorld assembly is part of National Geographic's "The Great Migrations Education Initiative" which provides schools with an online educational hub that includes classroom materials and resources such as lesson plans, activities, projects and video clips. The series "Great Migrations" premieres Nov. 7, 2010 on the National Geographic Channel and chronicles epic migrations of animals including sharks.
SeaWorld's "Shark Encounter" plunges guests into the underwater realm of spine-chilling denizens of the deep, including eels, barracuda, venomous fish, and sharks. The highlight of the attraction is a 60-foot shark tunnel that runs through a 600,000 gallon aquarium surrounding visitors with more than 30 sharks, including sand tiger, nurse and brown sharks.