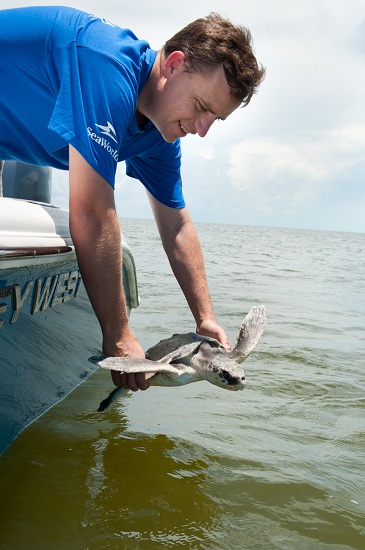 Last week, SeaWorld Orlando released five endangered Kemp's Ridley sea turtles – displaced by the oil spill in the Gulf of Mexico – into the waters of Gullivan Bay near Marco Island, Fl. The area is a natural habitat for Kemp's Ridley sea turtles.
For two weeks SeaWorld aquarists and veterinarians provided care for the reptilian refugees – nine altogether – since their arrival from the Institute for Marine Mammal Studies (IMMS) in Gulfport, Miss. where they were treated for injuries related to fishing hooks and lines. Four of the turtles remain at the park's Animal Rehabilitation Center for further treatment before they are released.
The animals came to SeaWorld because the IMMS staff needed to make room for the possible arrival of animals in need of treatment due to the oil spill. SeaWorld is one of the few organizations with the expertise to tend to the special needs of Kemp's Ridley sea turtles. They are solitary animals and do not interact with each other and other turtle species. This made their trek to SeaWorld imperative as park aquarists set up a triage area to accommodate the new patients.
The release was a joint effort between SeaWorld Orlando, the Florida Fish & Wildlife Conservation Commission and the Conservancy of Southwest Florida.