In a rare bit of behind the scenes preview, the Disney Cruise Line has released a few photos of the Disney Dream, scheduled for completion in 2011. Also, you can now see a "web cam" of the Disney Dream under construction at the Meyer Werft shipyard in Germany.
I had been told that the Disney ship would never be shown on the web cam, so this is a great change. It's only updated weekly at this point, but it's nice nonetheless. If you look carefully you'll see that the back half of the ship is yet to be assembled. Those are all the decks pre-assembled there on the right.
Also released was this photo of the Disney Dream funnel as it made its way to the shipyard.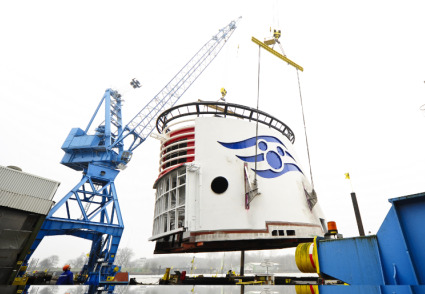 Two different photos are available over on the Disney Parks blog. They're gonna have to change its name if they keep posting about the Disney Cruise lines. (My offer still stands, guys.)