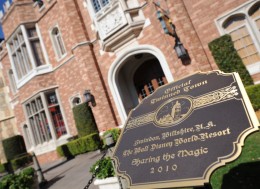 If you're ever walking through the town of Swindon in the United Kingdom and find yourself thinking, gee This is a lot like Walt Disney World then you can understand why Swindon has been officially honored at Walt Disney World Resort in Lake Buena Vista, Fla. with a plaque marking the "twinning" of the Wiltshire town. A special guest at the twinning ceremony was The Mayor of Swindon (Cllr David Wren).
Pictured above is a plaque marking the twinning was placed in the United Kingdom pavilion at Epcot World Showcase. It will remain in place throughout 2010 for guests to see. (Photo Courtesy Disney. Diana Zalucky, Photographer)
Previously: Disney Hunting for Twin Town.