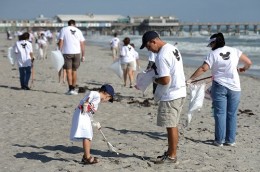 A sea of more than 400 Disney VoluntEARS helped clear 1,080 pounds of trash from the Brevard County coastline on Sat., Nov. 7 as part of the International Coastal Cleanup, the world's largest volunteer effort to improve the health of the ocean and waterways. Disney VoluntEARS, working with the Ocean Conservancy, Keep Brevard Beautiful, United States Coast Guard and the Canaveral Port Authority, represented the largest group participating in the community-wide cleanup event.
"We really appreciate Disney VoluntEARS coming out here to help as one large organization," said John Porter, chairman of Keep Brevard Beautiful. "It makes a huge impact for our county and will make the beaches nicer for everyone."
Joined by friends and family, Disney VoluntEARS from Walt Disney World Resort, Disney Cruise Line and Walt Disney Imagineering helped protect the environment and preserve the natural beauty of nearly four miles of beach near the Disney Cruise Line terminal in Port Canaveral. The majority of items picked up were cigarette butts, bottle caps and fishing line.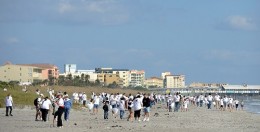 "Small objects – such as cigarette butts and fishing line – may look really insignificant, but they can be life-threatening to marine animals," said Jackie Ogden, vice president of Animal Programs and Environmental Initiatives for Walt Disney Parks & Resorts. "Picking up trash on the beach is a simple action that people can take to really make a difference for wildlife and wild places."
Coastal Cleanup participants are acting locally as part of a global mission to eliminate ocean debris, protect marine life and make the beaches more enjoyable for everyone. This year, the Ocean Conservancy estimates 500,000 volunteers – one million helping hands worldwide – will join in on the effort.
"Trash along our beaches and waterways threatens marine wildlife and undermines tourism and other economic activities," said Dianne Sherman, director of the International Coastal Cleanup. "The Cleanup gives everyone a chance to be a part of an important global movement to end the tide of ocean trash."
Disney's involvement in the Ocean Conservancy's International Coastal Cleanup spans six years; since 2003, more than 1,700 VoluntEARS have picked up more than 26,000 pounds of garbage at Florida Coastal Cleanup events.
The Walt Disney Company, through the Disney VoluntEARS program, provides opportunities for Cast Members to contribute their time and expertise toward positively impacting their communities. Disney VoluntEARS are active in Central Florida; in 2008, they gave more than 204,000 hours in service to the community ranging from serving meals to the homeless to coaching Little League.
Don't forget that beginning January 1st you can register online with Disney to get a free days admission in exchange for a volunteer shift.