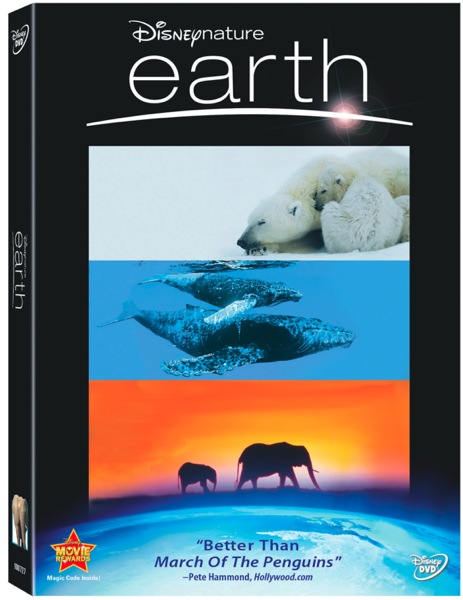 When you think of all the things the Walt Disney Company should be doing now, returning to movies in the spirit of True Life Adventure may not be at the top of your list. But it was at the top of mine, so I can't tell you how happy I was when Disney rolled out the DisneyNature label.
Now the first film from DisneyNature is out on DVD and Blu-ray. EARTH tells a trio of unforgettable stories sure to captivate movie lovers of all ages. Set against some of the world's most spectacular vistas, this breathtaking motion picture achievement uses the classic Disney storytelling tradition to celebrate the diversity and determination of its animal stars in a heroic journey that covers the Earth from pole to pole.
Award-winning filmmakers Alastair Fothergill ("The Blue Planet") and Mark Linfield ("Planet Earth") employ the latest innovations in film techniques to bring EARTH's stunning visuals to the screen. Narrated by James Earl Jones, the inaugural release from Disneynature is just the beginning of an instantly collectible new line of films and a worthy successor to the beloved, Academy Award-winning True Life Adventures series. I've previously posted the transcript of a chat with Fothergill about the making of EARTH plus some signals of future projects too.
EARTH follows the stories of three main groups of animal characters. In the Arctic, a mother polar bear trailed by her two cubs searches for food as their icy hunting grounds melt away. A herd of African elephants slowly traverses the arid Kalahari Desert toward the water-rich Okavango Delta. A humpback whale and her calf make a 4,000-mile journey in an epic migration that takes them from tropical waters all the way to Antarctica.
To me the weakest part of EARTH was the way the story jumped around in time and space across the globe. It made it more difficult to follow than was absolutely necessary. However, the amazing footage of nature at its finest, more than made up for that.
Available in a single-disc DVD or two-disc Blu-ray Hi-Def/DVD Combo Pack, EARTH includes bonus features that offer viewers an in-depth look at the making of the film and an opportunity to learn more about our planet and its myriad fascinating inhabitants. In Blu-ray, the film gives audiences an unmatched opportunity to view its dizzying aerial photography, epic backdrops and rare footage of land, sea and air in astonishing high definition.