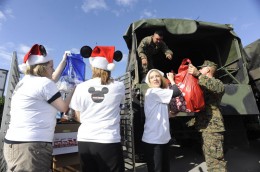 Making holiday dreams come true for Central Florida children, thousands of Walt Disney World Cast Members helped Santa by generously collecting new toys for the U.S. Marine Corps' Toys for Tots campaign. A convoy of Marine vehicles arrived at the Walt Disney World Resort to pick up approximately 20,000 new toys; presents for children ranging from infants to teenagers. Donning Santa hats and plenty of good cheer, Disney VoluntEARS greeted the Marines and helped them load the toys onto military trucks. Some of the items collected included learning toys, board games, arts & crafts, CD players and small electronic games, along with sports equipment.
In addition to donating toys, hundreds of VoluntEARS gave 2,000 hours helping to register thousands of local families, translating the Toys for Tots registration forms into Spanish and Haitian-Creole, sorting and stocking shelves with collected toys and assisting with the distribution of toys to families.
This year, Central Florida Toys for Tots expects to assist thousands of families from Orange, Osceola and Seminole counties in celebrating the holiday season with gifts for their children. The annual toy drive is meant to send a message of hope to youngsters to motivate them to mature into responsible, productive, patriotic citizens and community leaders.
Since 1948, Toys for Tots has collected and distributed more than 19 million toys to more than 9 million needy children across the nation. Disney's involvement with Toys for Tots dates back to when Walt Disney himself, inspired by the nationwide toy drive, decades ago designed the original Toys for Tots logo.
The Walt Disney World Resort is committed to improving the lives of children in Central Florida through its Disney — Helping Kids Shine initiative that seeks to build better futures for children by creating healthy, guiding relationships with adults, providing constructive free-time activities, offering character-building opportunities, and encouraging a sense of compassion for others, while helping those children who face adversity.
(photo courtesy Disney)