Hannah Montana & Miley Cyrus:
Best of Both Worlds 3-D Concert
Now Available On DVD and Blu-Ray High-Def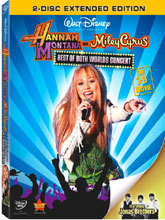 Miley Cyrus is the latest, and perhaps greatest, teenage starlet to be produced by the Disney machine (although Annette Funicello will never displaced in my heart). Miley's been unleashed on America and the world in a triple threat of Television, Music, and, with her Hannah Montana & Miley Cyrus: Best of Both Worlds 3-D Concert, the silver screen. Amazingly it seems there is plenty of potential left for Miley to achieve.
The Hannah Montana & Miley Cyrus: Best of Both Worlds 3-D Concert DVD arrived on August 19. It captures spectacular moments from the sold-out concert event live and in 3-D for an experience that's so real, it's like having an all-access pass. Complete with amazing footage, stellar bonus features and 3-D glasses, the two-disc extended edition will have fans dancing right out of their seats.
The talented Miley Cyrus performs a dual role as herself and her pop star alter ego Hannah Montana. Hannah Montana & Miley Cyrus: Best of Both Worlds 3-D Concert pulls out all the stops, with awesome sets, unforgettable music and off-the-hook dancing choreographed by Kenny Ortega ("High School Musical" franchise, "Cheetah Girls 2"). First, Hannah Montana rules the stage like the "Rock Star" she is, then she turns over the mike to Miley Cyrus so she can "Start All Over." A special performance by tween-tastic trio Jonas Brothers completes this ultimate concert experience.
The Hannah Montana & Miley Cyrus: Best of Both Worlds 3-D Concert was Disney's first entry in the theatrical concert movie genre. But as movie studios and theaters look for new ways to put butts in seats, the uniqueness of 3D Concert films is a smart move. I didn't see it on the big screen, but I think the movie loses a little something when translated down to the living room and my 23 inch screen. The 3-D effects, available on the second DVD, are interesting and they do put you in the middle of the concert at times.
The DVD is packed with bonus features that include a sing-along mode, 3-D viewing with four 3-D glasses, additional songs not seen in the theater version, and the Ultimate Personal Tour that lets you hang out with Miley Cyrus and Jonas Brothers during the tour. It's "as close as you'll come to achieving the best of both worlds," according to Elizabeth Weitzman of the New York Daily News!
When it was on the road, it was the concert of a lifetime; now it's the ultimate DVD event. If you saw the concert live, or just have a budding Hannah Montana or Jonas Brothers fan in your household, you'll want to add this one to your "A Rotation".