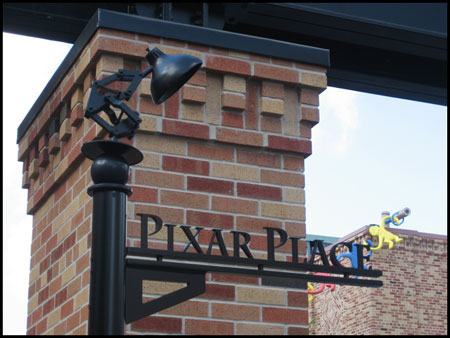 Photo: A new sign for the still under construction "Pixar Place" of Disney's Hollywood Studios. Note the iconic use of Luxo, Jr., The desk lamp that Pixar uses in its logo.
I was at Disney's Hollywood Studios today and spent quite a bit of time on Pixar Place. Pixar Place used to be Mickey Avenue until they re-themed it to resemble Pixar Studios in Emeryville, CA. It now houses Toy Story Midway Mania and will soon have what looks like a shop as well (it's still behind construction walls). At one end of Pixar place is a photo-op with Tow Mater and Lightning McQueen from Cars and at the other end a photo-op with Prince Caspian (soon to be a whole walk-through attraction-although why it wasn't open before or simultaneous to the movie premier is beyond me. (FAIL as the meme goes right now)).
There was one glaring omission. Absolutely nothing promoting WALL-E. This is likely to be Disney's tent-pole movie for the summer and they've been promoting it like crazy in the press, on television, on the web, and even in movie theaters with that cute Wall-E Hearts Eve bench. They've even begun a tour of a real live WALL-E robot through various schools and museums (videos of which have made it onto this blog and youtube).
Yes, I realize it's Star Wars Weekends and DHS is very focused on providing an excellent experience for its guests with the extra traffic and attractions SWW provides. But at the bare minimum they should have a couple of those huge posters up on the plentiful bare walls on Pixar Place. A photo op with a WALL-E Prop or backdrop also seems like a bare minimum. Plus, I certainly hope they get that WALL-E robot out to the park before the movie actually opens at theaters.
These are the sorts of things that not only get seen by many of Disney best customers (park guests and annual passholders), but also get spread beyond the park gates via photos, videos, social networks, twitter and more. Sure, WALL-E has good buzz, but that's not reason to sit back and rest on it. Instead it's time to capitalize and stoke the fire. Especially this close to the movie's opening date.
I haven't been over every square foot of Walt Disney World, so if you've seen other promotions, do let me know in the comments. Still, why nothing at Disney's Hollywood Studios direct representation of Pixar Studios, Pixar Place?
* * * * *
Time Magazine has another profile of the Pixar crew with a close look at WALL-E, which they call "Pixar's Biggest Gamble." Now that's what I thought about "Finding Nemo" and look how that turned out. I'm sure Disney and Pixar would be happy with that level of success, but really I expect the little robot to do even more (especially internationally where Pixar always sets records).
for its first 30 min., the new Pixar astonishment WALL•E has virtually no dialogue. Nor does it offer a Star Wars–like print crawl to inform viewers that this is Earth 800 years from now. The mechanical critter who is the film's hero can speak only in electronic grunts and sighs, or in one-word bursts, like a chattier R2-D2. The movie's other main creature, a robot named EVE, also can speak only a few words. Yet it's Pixar's big, bold belief that the mass audience will be astute enough to follow the visual clues and game enough to play along. So confident is the studio in its ability to charm audiences, it has made a futurist movie that's a lot like an old silent picture.
* * * * *
So, what are your thoughts about WALL-E? Planning to see it opening night, first weekend? Multiple times? What do you think it will do in Box Office numbers opening weekend? Post in the comments below and let us know.